---
The Urban Farmer, Issue #020
January, 2010: New Site Pages! * Gator Nation Goes Hydro * More on Fungus Gnats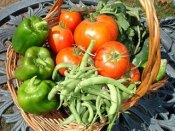 "Unemployment is capitalism's way of getting you to plant a garden".
~Orson Scott Card

---

NEW INTERACTIVE SITE PAGES!

Hey, we've got two great new pages to unveil! They are both interactive, meaning you contribute to the page yourself.

The Hydro Forums page is like an "ASK IT" service; if you're having problems with your hydroponics setup, or just have a general question about hydro, here's the place to ask. It is very easy to submit your question, no registration or emails needed. Just go to the submission box and start typing!

We will do our best to answer your question, and also welcome comments and suggestions from other site visitors. This should prove a very valuable resource for you as you build and operate a system.

The second page, Brag Pics, is for fun (and ideas)! Submit a photo showing off your hydro project! We want to see what you are up to, even if you are just getting started. So get out the camera, snap a photo, and get your garden "up in lights" today.


---



GATOR NATION GOES HYDRO! -

UF Hydro--

GAINESVILLE, Fla. — Today's economically spurred resurgence of the home vegetable grower can't entirely be dubbed a "return to the earth." Many burgeoning farmers aren't breaking soil, they're using hydroponics.

"There are a lot of new people interested in growing, and many of them are realizing that hydroponics just makes a lot more sense," said Bob Hochmuth, a multicounty agent with the University of Florida's Institute of Food and Agricultural Sciences. "It's one of the most reliable ways to grow crops. And, for people that don't have a lot of land, which I think is a lot of these new growers, it's a more cost-effective investment."

"Across the country, there's been more and more interest in locally grown products. Now, these economic conditions are coming in into the mix and making people think long and hard about the best way to do it," said Tim Carpenter, owner of Verti-Gro Inc. in Summerfield, Fla. Tim claims that demand has nearly doubled over the past year.

"Hydroponics involves mechanics and plumbing, and it's not going to be right for everyone," he said. "But for a good percentage, it's just going to be a very practical choice."
Simply put, hydroponic techniques are used to grow plants in structures that supply water and nutrients without soil.

These structures allow plants to be grown in greater density and with better control of variables such as pests, the overuse of fertilizer and exposure to foodborne pathogens like salmonella.

Additionally, hydroponic techniques usually involve growing the crops inside greenhouses or in tight clusters. These methods mean protection against bad weather and a year-round growing season — big boons to growers interested in using their crops for supplemental income.

"Hydroponics isn't easy, and it's not something that just comes to you," said Belinda Cheney, who uses hydroponics to grow vegetables and ornamental flowers on her small farm in O'Brien, Fla., as a way of supplementing her family's income while remaining home with her children.

For more information on hydroponics, try the UF extension service: http://smallfarms.ifas.ufl.edu/crops/hydroponics/index.html.

---
ANOTHER WEAPON AGAINST FUNGUS GNATS

Another Fungus Gnat Weapon:

Pat, one of our site visitors, read the section on fungus gnats, and wrote in to tell us about her secret weapon:

"Take some rotting food ( I am using peppers) and put it in a container and put that inside a large clear produce bag (so you can see what is going on). Put a large container inside to prop it open and let the open end of the bag hang down over it almost to the counter. The gnats have to fly down and then up to get to the food. Leave sitting on the counter overnight. Then grab the ends of the bag and hold together and carry outside. Release the gnats by turning the bag inside out. Keep repeating until no more gnats are found." Ingenious! Thanks, Pat
---
Hydro Tip of the Month
Prevent fungus and mold diseases by providing constant air exchange in your garden. Provide an inexpensive fan which causes the leaves to move very gently, 24 hours per day. If you are growing inside a small room, you must figure out a way to vent stale air outside the room. Either crack a window or door open, or install a vent to facilitate air exchange.
---
We hope you have enjoyed this issue of The Urban Farmer Ezine. Each month, we will bring you another inspiring photo, gardening quote or idea, plus fresh new hydroponics news, techniques & products.
Insiders tips to get you growing...

~Stella and Simon from Hydroponics-Simplified.
---