CHEAP HYDROPONICS SUPPLIES
We Recommend Only The Best


Below we present a resources list of some of our favorite cheap hydroponics supplies and equipment, at reasonable prices. We have made every effort in this website to recommended only the simplest, sturdiest, most economical time-tested hydroponics supplies. You will not find a confusing and bewildering array of stuff here. We use these products often and highly recommend them for your own garden. So if you see it here, rest assured that it has our stamp of approval!
Aside from our ebooks listed below, the hydroponics supplies ship to the U.S. only.

*Affiliate Disclaimer: Please note that if you purchase an item through our links here, we do receive a very small commission on the sale... enough to keep our website up and growing! (And we appreciate and value your patronage).


Cheap Hydroponics Supplies

We have divided our cheap hydroponics supplies page into appropriate sections. For each of the hydro systems described in our website, you will find a corresponding section of supplies needed for that project:
 
 Ebb & Flow Supplies
 
 Lettuce Raft Supplies
 
 Top Drip Systems
 
 Bucket Systems & Closets
 
 Lighting
 
 Nutrients & Reservoir
 
 Growing Media
 
 Seedlings & Cloning
 
 Cool Tools of the Trade



   Ebb & Flow Systems

A good, reliable water pump is at the heart of most automated hydroponic systems. We recommend Eco long-lasting but economical pumps.

ECO 132 GPH- Perfect for bubbler buckets and Rubbermaid bin systems $9.90

ECO 633 GPH- Good size for ebb & flow or top drip systems $35.96


ORDER ECO PLUS SUBMERSIBLE WATER PUMPS





You'll need these fittings to get your garden tray ebbing & flowing properly. Now, you could go to Home Depot and try to patch together something that might work for $15, or order the "real deal" for only $6.05!


ORDER EBB & FLOW FITTINGS KIT





24 of these extra-large and sturdy square pots fit inside the Botanicare 4' X 4' ebb & flow tray perfectly (see below for the tray).

12" x 12" at top rim; 8.5" x 8.5" at bottom; 12" tall. 4.75 gallon capacity. Roomy enough for your biggest specimens, only $5.24 each


ORDER GIANT HYDRO POTS





This super-strong and durable grow tray from Botanicare is the best on the market. Now, you could always buy a Rubbermaid container and try to save a few bucks, but you'll regret not getting a proper ebb & flow tray when your makeshift unit sags and fails to drain properly.

We stand by this 4' x 4' workhorse at $121.30.


ORDER 4' X 4' BOTANICARE GROW TRAY
   Lettuce Raft Project

   Top Drip Systems

| | |
| --- | --- |
|      Aqua Shuttle Manifold Kit | |
| | |
   Buckets & Closets

3.75 inch net pots are the perfect size for top feed systems which are built into a Rubbermaid bin. $0.51 each


ORDER 3.75 INCH NET POTS




The Lazy gardener's perfect solution: Autopots! Try out the system with this nifty two pot set up.

 Complete for $75.96


ORDER AUTOPOT EASY 2 GROW KIT
   Lighting

Compact fluorescents work great for leafy greens, lettuces and herbs. Some folks have even reported success with fruiting plants by using the red lamp, below.

Sturdy lamp with wing reflector: $44.51
Compact fluorescent 125 W Blue 6500K: $34.50
Compact fluorescent 125 W Red 2700K: $34.50

ORDER WING COMPACT FLUORESCENT LAMP FIXTURE
ORDER BULB 125 WATT BLUE
ORDER BULB 125 WATT RED
High output T5 fluorescentS are our best recommendation for a prolific lettuce raft. 4 foot long unit for $74.24

BUY HIGH OUTPUT T5 4-BULB X 4' LAMP
   Nutrients & Reservoir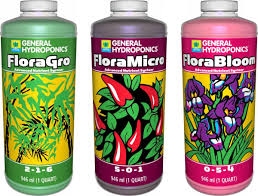 The only hydroponic solution we recommend for all hydroponic gardens. Nuff said! Order your fresh nutes below:

FLORA MICRO CONCENTRATE [Quart: $10.98, Gallon: $25.15]
FLORA GRO CONCENTRATE [Quart: $8.60, Gallon: $21.91]
FLORA BLOOM CONCENTRATE[Quart: $8.60, Gallon: $21.91]
FLORA MICRO FOR HARD WATER [Quart: $12.96, Gallon: $26.85]
If you have hard water (greater than 70 ppm of calcium) order the Hardwater Micro above instead of regular Flora Micro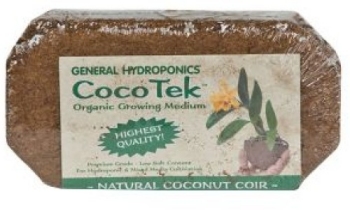 We use this superb media all the time. One brick expands to five times its size once hydrated with water. $2.20 per brick.

BUY COCO TEK COMPRESSED BRICK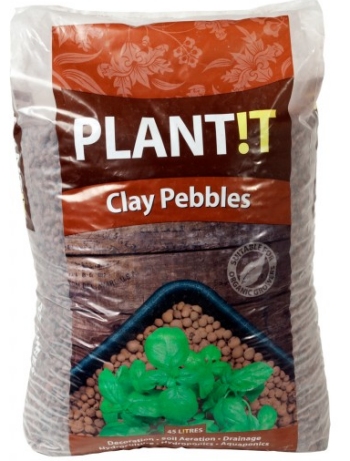 Hydroton makes a fine sturdy base for your plants without changing the nutrient mix.

10 Liters: $10.53
50 Liters: $29.41

BUY HYDROTON CLAY BALLS 10 LITER
BUY HYDROTON CLAY BALLS 50 LITER
   Seedlings & Cloning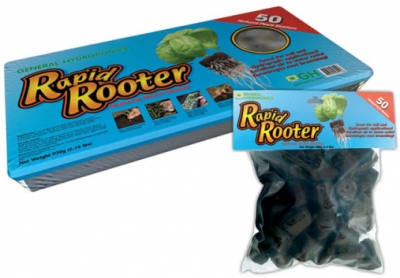 We love Rapid Rooter starter plugs. Once your seedling is up and running, simply pop each plug into your garden.

50 Site Mat with Plugs: $18.71
50 Replacement Plugs $13.44

ORDER RAPID ROOTER TRAY 50 SITES
ORDER RAPID ROOTER REPLACEMENT PLUGS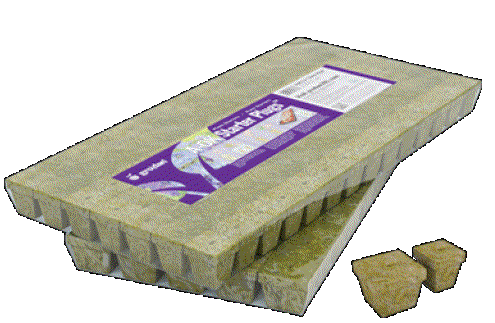 Rockwool cubes also make a great start for your prized plants.
1.5" x 1.5" x 1.5" cubes. Strip of 98 for $12.78

BUY GRODAN ROCKWOOL CUBES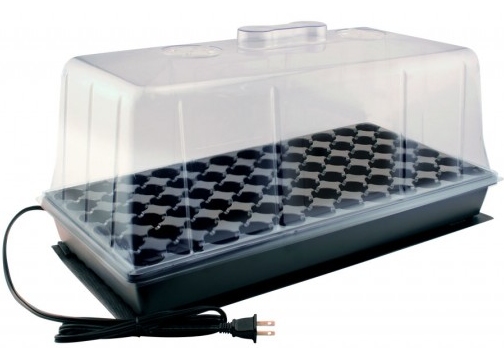 Serious about your hydroponic garden? Why not go first class?
This 10" x 20" seed starting dome comes with heating mat and starter gel. It's a good buy at $37.83.

ORDER SUPER SPROUTER PROPAGATION STATION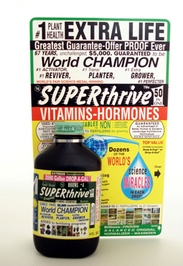 Give 'em a shot of Vitamin B and watch 'em thrive!
4 ounce bottle of concentrate: $13.07

BUY SUPERTHRIVE SOLUTION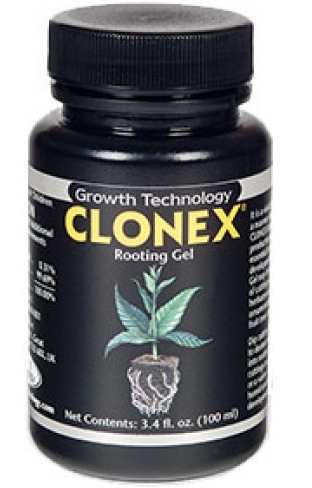 Well worth the money to ensure success with your cloning program. 100 mL gel for $21.25

ORDER CLONEX GEL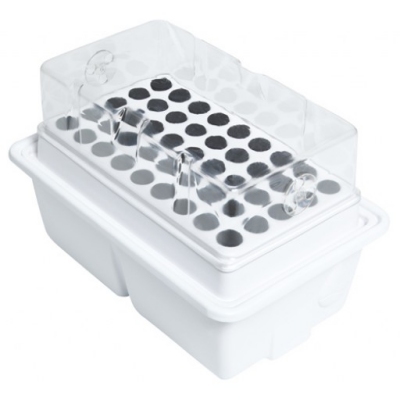 Maybe a bit pricey; but this unit aerosolizes your prized clones/cuttings, promoting prolific root growth in short order. $274.74

ORDER POWER CLONER WITH AEROPONIC ROOT SYSTEM
   Cheap Hydroponics Supplies:
   Cool Tools of the Trade

A quick glance tells you all you need to know about your garden's atmosphere. Large display; also records minimum and maximum temps for the day. $17.07


BUY LARGE DISPLAY THERMOMETER/HYGROMETER




A must-have once you get going with a serious garden. $79.97


EF DIGITAL PH METER




Here's another optional item you might consider when you get serious about hydroponics. (Once you have one, you'll wonder how you ever did without it.) Gives you the status of your hydroponic solution in an instant. $98.75


BUY A BLUELAB TRUNCHEON METER

RETURN FROM CHEAP HYDROPONICS SUPPLIES TO HOME