This post may contain affiliate links. That means if you click and buy, I may receive a small commission. Please read my full disclosure policy for details.
IDENTIFYING GARDEN PESTS

Uh oh! Chances are you have arrived at our "Pests Page" because you have
found some bugs in your hydroponics garden. Our condolences; but please know this was bound to happen, sooner or later.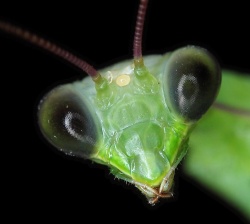 ---

Where the heck did they come from? You used sterile medium, practiced good
housekeeping in your grow room, and the darn thing is in a back bedroom! So how did these little critters find their way to your
plants? (Sometimes I think they "spontaneously generate" out of thin air).
BATTLE OF
THE BUGS
Identifying garden pests can sometimes be daunting.
Whatever, they are here, so what to do about
it? You don't want to grab a can of Raid and douse your new garden with poison,
right?
We suggest a gradually escalating plan of attack, starting with the safest (and
greenest) pest eradication methods first:
1. SEARCH & DESTROY
Grab a magnifying glass, find the bugs, and pick them off by hand,
killing them as you go. Now this method, obviously, is only effective in the
early stages of pest-infestation, when there are just a few. But this can be
very effective if you do it daily, and stay on top of the situation. 

Understand hydroponic garden maintenance and pest prevention here.
2. NATURAL PREDATORS
Are you in a greenhouse, or on a screened-in porch? Beneficial bugs
like ladybugs and lacewings have voracious appetites, and can completely rid
your setup of the bad bugs.... like aphids or mealybug... in a day or two.
You might even try this in a closed off back bedroom, BUT, for obvious reasons, you don't want to try this in your living room. 

Read all about beneficial insects/ biological pest control here.
3. MILD ORGANIC PESTICIDES
I know, I know, you wanted to stay chemical-free! But when your beautiful new
garden is swarming with thousands of white flies, and you are in danger of
losing the whole crop... this is a true test of your "pesticide-free"
resolve. We have had to resort to some of the milder organic agents ourselves,
and with great success. Try everything else first, but you may decide in the end
to resort to the "final solution" for your unwanted visitors. 
Read
about recommended organic pesticides here.
THE TOP 6 PLANT PESTS
Our handy guide to identifying garden pests
Okay, now we get right to it! These are the pests most likely to be giving you
headaches right now...
PLANT DISEASES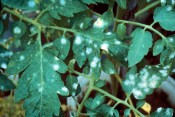 Identifying garden pests can sometimes prove futile…
There are other plagues besides insects which can lay waste to your new garden.
Learn about the most common plant diseases, and how to prevent and treat them here:
MOLD,
MILDEW, FUNGUS, VIRUSES & ALGAE
---
Identifying garden pests...
There is one disadvantage to the hydroponics method of gardening that we need to
explain here. The hydro process allows you to pack
many plants in closer together due to the smaller root systems and a
super-enriched nutrient bed. Hydroponics is a true form of
"intensive gardening", capable of producing an amazing amount of crops from a
small space.
BUT... this crop density also allows for the quick spread of pests or diseases.
Insects, funguses and mildews can overtake your entire
hydro garden in a matter of a few days. And once they take hold, they are not
very easy to eradicate.
This is why PREVENTION is the best way to keep a disastrous bug-festation from
ruining your hydroponic garden. Read our 
Pest
Prevention page  to learn how to stay one step ahead of these tiny but deadly
spoilers.
RETURN FROM IDENTIFYING GARDEN PESTS TO HOME PAGE
New!

Comments

Have your say about what you just read! Leave me a comment in the box below.