FIGHTING MEALYBUGS

Got mysterious cottony swabs in your garden? Must be mealybugs... learn how to treat here.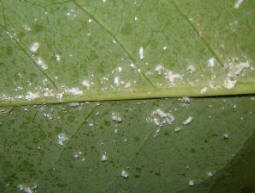 MEALYBUGS
PLANT DAMAGE
Distorted leaves, weak plants, a large infestation can carry away a plant.

INSECT APPEARANCE
Colonies of mealybugs can look like a cottony mass. Grab a magnifying glass and you will be able to see the puffy, slow-moving culprits.

TREATING LIGHT INFESTATION
Try to pick them off by hand on a daily basis, and you might just get the upper hand. But you will have to be vigilant in your pursuit of these bugs.

BIOLOGICAL WARFARE
Mealybug predator beetles (Lady Bugs) love to eat mealy bugs.

Amazon affiliate link:

CHEMICAL WARFARE
Insect Killing Soap: spray the surface of the media as well. You will have to repeat treatment several times to eradicate these pests; Neem Oil can also be used to control this insect.
Amazon affiliate links:

---
Return From Mealybugs to Pests & Plagues
RETURN TO HOME PAGE