This post may contain affiliate links. That means if you click and buy, I may receive a small commission. Please read my full disclosure policy for details.
So by now, you know our simple secret to growing the best, most prolific hydroponic garden possible! Not sure what that is? Then you missed this page: Growing Lights.
Get up to speed, then come on back… We'll wait for you 🙂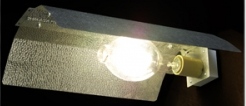 To recap from the Growing Lights page:  MH works best for the vegetative growth stage, and HPS is preferred for the flowering and fruiting stages.
Our special deal conversion lamp with both MH & HPS bulbs is a fantastic solution… And the Best Buy on the net.
iPower 600 Watt HPS MH Digital Dimmable Grow Light System Kits Wing Reflector Set with Timer
This light setup covers great for a typical 4′ X 4′ garden, and it includes:
400-watt conversion lamp/with highly reflective hood
Remote ballast, heavy-duty and HEAVY
400-watt HPS bulb
400 watt MH conversion bulb (slimline)
Heavy-duty grounded timer
Warranty: 2-year guarantee for ballast and components; 1 year for bulbs
All this for under $200, with free shipping. You can't beat that for a combo conversion grow light kit. This is a specially arranged deal with our supplier and is available for shipment
only to the US lower 48 states, (sorry).
 Buy this great combo HID grow light kit for under $200 –  and free shipping!
Order your HID Combo Kit here for $199/free shipping:
[Sorry, we only ship the special LIGHT kit to the LOWER 48 US states].
$199.00 USD
Lower 48 states only
Free Shipping
No P.O. Boxes, please
Please note: you do NOT have to sign up for PayPal to use your credit card for this purchase.
---
SPEC FREAK? Everything you need to know about this grow lamp kit
Growing lights special…
LIGHTING BALLAST AND HOUSING
Dimensions: 9″ long x 4″ wide x 5.5″ tall
This grow light ballast is a REMOTE 400-watt HPS grow light ballast, with an innovative design that separates the ballast core away from the capacitor and ignitor components, to provide high performance and long life.
The High-Pressure Sodium grow light ballast also features a convenient retractable handle with large keyholes for wall or ceiling mounting options. It also has over-sized rubber feet for electrical safety and quiet operation. The 8-foot power cord and 10 foot light bulb output cords are constructed of the highest quality, heavy gauge industrial grade electrical cord usually seen on grow lights costing much more.
The ballast is pre-set and ready to plug into a standard 110/120 household voltage, but can easily be changed to 220/240 volts. The 400-watt High-Pressure Sodium grow light ballast will operate any standard or horticultural 400-watt High-Pressure Sodium lamps and 400-watt Metal Halide Conversion lamps (see below).
For future upgrades, the universal socket set can be used with many other reflectors; including air-cooled reflectors, umbrella-style hoods, and many other grow light reflector hoods. This makes this grow light kit a great value for hydroponic and indoor gardening lighting.
FOUR-SIDED HORIZONTAL GROW LIGHT REFLECTOR HOOD
Dimensions: 15.5″ long x 12.5″ wide x 6″ deep
This quality grow light system features a lighting reflector hood that is a highly efficient FOUR sided reflector. This top of the line HORIZONTAL REFLECTOR is made from the HIGHEST QUALITY MATERIALS available! Specifically designed for growing plants indoors, this reflector incorporates a steel socket/reflector bracket, 5kv Pulse Rated Mogul Based socket, and highly reflective polished aluminum reflector. The mirror-like finish rated at 95% reflectivity for MAXIMUM LIGHT OUTPUT.
The grow lights Horizontal lamp configuration design allows for the greatest light coverage over the top of your indoor garden while providing the highest light intensity levels possible. Additionally, this versatile grow light reflector can be used as a 4 sided reflector or as a completely adjustable BATWING reflector, your choice.
Utilizing all four sides of the reflector ensures that every single lumen produced from the lamp/bulb is emitted downward onto your plants, and not out. This grow light reflector hood comes with two heavy-duty steel hangers and a 10' cord from the reflector to the remote 400-watt High-Pressure Sodium ballast housing.
400 WATT HPS LIGHT BULB
This standard bulb emits 55,000 lumens with a rated life span of 24,000 hours.
400 WATT HORTICULTURAL METAL HALIDE CONVERSION LAMP
This is a top of the line, high output, specialty horticultural Metal Halide Conversion bulb. It is made to operate specifically with the 400-watt High-Pressure Sodium ballast that comes with this
ULTIMATE grow light system. The bulb emits 38,000 lumens, compared to only 30,000-36,000 lumens for standard 400-watt Metal Halide lamps. Remember, HIGHER LUMEN OUTPUT equals HIGHER YIELDS. Rated life of 20,000 hours.
FREE MECHANICAL TIMER
A timer is absolutely essential to have if you are growing plants that need a specific light cycle – the light/dark photoperiods – like flowering plants need. You can program on/off times down to
15 minute on/off increments per 24 hours. Very accurate and very dependable – much less prone to failure than electronic timers… you can count on this timer to deliver years of trouble-free service.
15 amp, 1,725-watt Capacity
Standard 3 prong Grounded outlets will fit all U.S. grow lights/appliances
On/Off Indicator light
WARRANTY FOR THE ULTIMATE 400 WATT GROW LIGHT KIT
This quality grow light system features a fantastic warranty usually found with grow lights costing much more. This kit carries a 2-year warranty for the ballast and components, and a 1-year warranty for the high output spectrally enhanced High-Pressure Sodium lamp and Metal Halide Lamp.