This post may contain affiliate links. That means if you click and buy, I may receive a small commission. Please read my full disclosure policy for details.
GROWING LIGHTS

ONE SIMPLE SECRET TO GROWING
A SUPER-CHARGED HYDROPONICS
GARDEN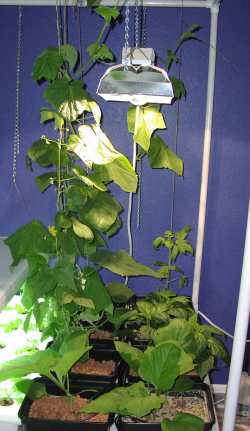 So, you've decided to start a
hydroponics garden… fantastic!
And why not shoot for the best possible garden?
I am going to share with you one simple, easy way to create the most prolific,
productive, supercharged growing system you could imagine. [The secret's in the
lighting].
Most hydroponic gardens are fairly
compact.
Easy to monitor and maintain. But you can explode crop production in
that small
space by using the right light at the right time. Unless you have access
to natural sunlight (like a sunny patio or greenhouse),
you'll have to provide special supplemental lighting for your
hydroponics
garden. And know how to use it properly.

What kind of lighting do you need? Now here's the real secret to a
super-productive garden…
The proper growing lights…
HID: PREMIER GROWING
LIGHTS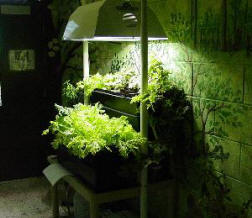 The flowering and fruiting plants, like
tomatoes, squash, beans and medical herbs, require a wide spectrum of
lighting that can only be delivered indoors with HID
(High Intensity Discharge) lamps.
Further, there are 2 different types of HID bulbs: MH (Metal Halide) and HPS
(High Pressure Sodium). You need them both.
WHY YOU NEED BOTH
A METAL HALIDE GROW LAMP &
A HIGH PRESSURE SODIUM LAMP


Using Metal Halide growing
lights and then switching to High Pressure Sodium light is the way to grow the
very best plants possible.
Growers worldwide consider the best method for flowering
plants is to start by vegetatively growing them under the bright
white light of the METAL HALIDE; then switching over to the
HIGH PRESSURE SODIUM's super bright orangish/red spectrum
for the flowering stage of plant growth.
The MH grow light
bulb provides lush, compact foliage growth. The HPS grow light
bulb's spectrum mimics that of the "harvest sun" and promotes
explosive, prolific flowering and fruiting.


Now, let's get this straight…
MH works best for the
vegetative growth stage, and HPS is preferred for the flowering and fruiting
stages. You want to build the best hydro garden you possibly can. But you can't
afford two lamps. Well, you don't need two lamps; you just need two different
bulbs, and one lamp that will accept them both.
And… you guessed it… there is a special lamp which will accept
"conversion" bulbs. One lamp: two bulbs… and voila, problem solved!

I guarantee, this is the only way to go for a successful hydroponics
experience. And you'll not find a better deal than our exclusive 400 watt HID Combo
Lighting Kit which covers great for a typical 4′ X 4′ garden.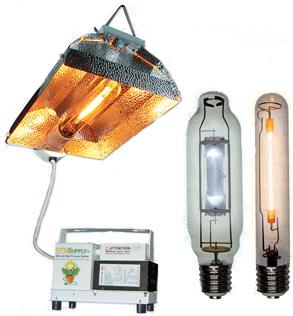 Well, that's it…
That's about all you need to know
about hydroponics growing lights. We really don't want to torture you with a mile
long, hyped up sales letter.

This tried and true lighting technique is so simple and straightforward, just like our website.
It's the only method we use for our own flowering/fruiting gardens. I have shared
here with you the single best hydroponics tip you will ever come across. It's so easy, and yet so important.
Order
your kit today so you can get started on your own successful hydroponics
adventure.
[Ed. Note: We have recently recommended consideration of LED lighting for your hydroponics garden as well. Read the latest on these cool lamps here: LED Grow Lights.
Return From Growing Lights to Home Page
New!

Comments

Have your say about what you just read! Leave me a comment in the box below.