This post may contain affiliate links. That means if you click and buy, I may receive a small commission. Please read my full disclosure policy for details.
"If you have a mind at peace, a heart that cannot harden, go find a door that opens wide upon a lovely garden." ~Unknown
Teenager sells his hydroponically grown produce at Gretna, LA Farmers Market
What began as a ninth-grade science fair project has turned into an all-consuming father and son enterprise in the Frazier household.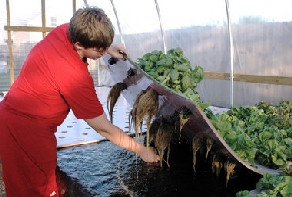 Last fall, Brad Frazier, 14, set out to prove that tomatoes grown using a hydroponic (cultivating plants in water) system would out-perform tomatoes grown in soil.
Six months later, the experiment, which won third place at the regional science fair has expanded into an innovative and impressive growing operation at their St. Rose home and a subsequent stand at the Gretna Farmer's Market.
A 20-by-40-foot greenhouse, built by the duo, sits in the corner of their yard, bursting with leafy vegetables and herbs. Brad Frazier and his father, Lonnie, built everything themselves — from the elevated water beds to the water circulating system using automatic timers, 55-gallon drums, water bottles, and PVC pipe.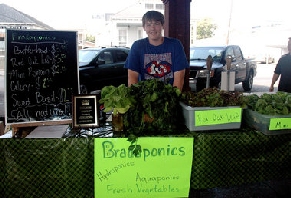 Brad Frazier sells his home-grown hydroponic lettuce and herbs at the Gretna Farmers Market.
For about $50, the Fraziers were able to build a mister that would have cost $500, said Lonnie Frazier, and a raised bed for about $400, which would have cost close to $5,000. "It's not as nice looking, but it's functional," he said. To build the frame of the greenhouse, they found a "pipe-bender" on eBay.
The Fraziers successfully found sources for obtaining the barrels from local businesses — the clear ones once held soap, while the blue ones were filled with hot sauce. The vendors at the Gretna Farmer's Market, Lonnie Frazier said, have also been another much-appreciated resource.
The plants in the Frazier greenhouse use a variety of materials for stability in the water, from burlap for the microgreens and rocks for the bell peppers, to a specially designed foam for the lettuce and coconut shells for the tomatoes.
Already, Brad Frazier said he has plans for expansion. They want to build a new greenhouse, he said, at twice the size, and a pond for goldfish, koi, and perch. So far, Brad Frazier said his lettuce is his "prized possession" and hopes to devote an entire greenhouse to it. He grows butterhead, oakleaf, and baby romaine. He's found the "baby" or miniature varieties — like his baby cucumbers, are popular among buyers.
"I feel if people found out how easy it is you'd find more people doing it," Lonnie Frazier said. "It's not as expensive as people believe. It just takes a little time and a little ingenuity."
As for the science fair project: "Fish, Dirt, or Water: Which grows tomatoes best," Brad's hypothesis that aquaponics would come out on top was close to correct. His dad's bet was on the hydroponics, which did emerge victorious, but the aquaponic set-up was close behind. Using graphs that tracked plant height and fruit productivity, Brad's experiment showed that the hydroponic
plants produced 30 tomatoes, the aquaponic produced 23, and the soil-grown plants produced six.
Icky coatings on your plants?
If your plants or medium have a slimy or fuzzy green, white, black, or grey coating, you probably have a fungus or mold problem. Read on:
Sooty grayish to white fuzz = "gray mold" (see Common Plant Diseases)
Powdery white spots which grow to cover the whole plant = "powdery mildew"
White cottony masses in the crooks of the stems = mealybugs
Webs = spider mites
Shiny trails = snails or aphids
Greenish tinge on top of the growing medium = algae
White "salt crystals" or residue on top of the growing medium = salt and mineral buildup. [Flush the pots well with clean water].
Hydro Tip of the Month – What to grow?
Start with vegetables you and your family love. It might be fun to grow 40 radishes, but if y'all don't like them, why waste the space? (Note: give radishes a try before you rule them out. Fresh from the garden to your salad tastes delightfully different).
We hope you have enjoyed this issue of The Urban Farmer Ezine. Each month, we will bring you another inspiring photo, gardening quote, or idea, plus fresh new hydroponics news, techniques & products.