This post may contain affiliate links. That means if you click and buy, I may receive a small commission. Please read my full disclosure policy for details.
Back to Back Issues Page

Urban Farmer: Tower Garden * Tips
January 01, 2013
---

The Urban Farmer, Issue #054 * Tower Garden  *  Hydro Tip
January,
2013: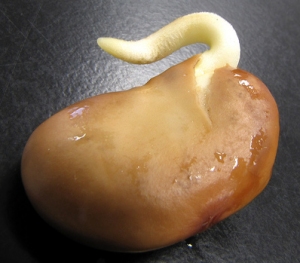 "In
every gardener there is a child who believes in The Seed Fairy."
         ~Robert Brault
---
 


Vertical veggies:
Tower Garden
methods cultivate easy bounty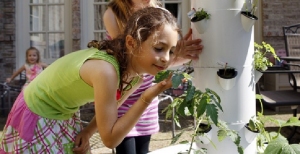 Some gardeners are switching from traditional in-ground gardening to a
method by which vegetables grow without any soil at all.
They are practicing hydroponic gardening, a method of
growing plants with mineral nutrient solutions in water. Plants are grown
with their roots in the nutrient solution.
Some Memphis-area gardeners are investing in the Tower
Garden, a white plastic obelisk that provides a continuous source of water,
nutrients and oxygen to the roots of the plants installed in the sides of
the tower.
This combination of hydroponic and aeroponic growing
techniques results in faster-growing plants, according to NSA, the
Collierville-based company that distributes Tower Garden.
Monique Jalenak bought one about three weeks ago; she has
already harvested a few strawberries, and her tomatoes, zucchini, lettuces
and other veggies are growing bigger every day.
"The kids have been loving it," said Jalenak, who hopes
the new garden will encourage them to include more vegetables in their diets
and teach them how food is produced.
Seeds are grown in Rockwool starter cubes until the roots
can be seen emerging from the bottom of the cubes. Then they are placed in
openings on the sides of the tower where they grow into mature plants.
The Tower Garden system was developed by Tim Blank, who
formerly headed up the 2-acre hydroponic farming display at The Land
Pavilion at Epcot in Walt Disney World. Tower Garden is designed to make
complicated aeroponic and hydroponic technology easy enough for home
gardeners, restaurateurs and other non-professional enthusiasts to use.
A circulating pump sends nutrient-enriched water up to the
top of a 20-gallon reservoir, and then, using gravity, it gently flows over
the roots of the plants to deliver nutrients and oxygen.
Lettuce is sprouting out of the openings of a tower bought
from Gerry Finney and franchisee Shali Ledbetter Atkinson and installed on
the patio at Acre, a restaurant in East Memphis.
"We're trying to grow as much as we can on our little plot
of land in the center of the city," said Andrew Adams, executive chef at
Acre. He's already had success in producing small-size herbs, edible flowers
and salad greens all winter under grow lights in the attic of the
restaurant. Now the same varieties will be able to grow to full size in the
outdoor tower.
"Instead of baby mustard greens on a plate, we're looking
forward to mustard flowers," Adams said.
He has already begun to harvest mixed lettuces planted
about four weeks ago.
Towers cost about $500, including enough "tonic" for a
season.
Twice a week or so, the pH of the water in the reservoir
needs to be tested and adjusted. Water and tonic are replenished as needed.
The pump filter should be cleaned about once a month.
Ciao Bella in East Memphis installed a tower on the patio
in front of the restaurant last weekend. The tower will be used to grow
herbs like basil, rosemary, thyme and oregano, as well as salad greens and
Roma tomatoes.
"We have a traditional garden a few blocks away where we
grow vegetables and herbs," said Judd Tashie, a co-owner. "But I like the
idea of having a garden just outside the door where our customers can see
it. I also set one up at my house, so we can see how they both work out,"
Tashie said.
At Chicago's O'Hare International Airport, an urban garden
consisting of 26 tall aeroponic towers has been installed in the rotunda
building between Terminals 2 and 3.
The vegetables and herbs produced are being used in
airport restaurants such as Tortas Frontera and Tuscany.
More information
To find out more about the Tower Garden, visit 

towergarden.com.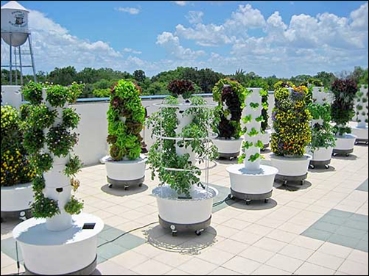 ---
Hydro Tip of the Month-  

Dang Moths!

Are there Zillions of tiny white moths fluttering about your plants? 
Sounds like
whiteflies.
 
---
We hope you have enjoyed this issue of The Urban Farmer Ezine. Each month, we will bring you another inspiring photo, gardening quote or idea, plus fresh new hydroponics news, techniques & products.

Insiders tips to get you growing…


~Stella and Simon from
Hydroponics-Simplified.
---
Back to Back Issues Page