This post may contain affiliate links. That means if you click and buy, I may receive a small commission. Please read my full disclosure policy for details.
Back to Back Issues Page

Urban Farmer: * Rooftop Garden * A Frame * Baby Cauliflower!
January 02, 2015
---
The Urban Farmer, Issue #079 * Rooftop Farm * Cloning * Baby Cauliflowers!
January,
2015: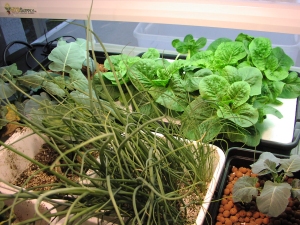 "Unemployment
is capitalism's way of getting you to plant a garden.
  ~Orson Scott Card
---
Innovation Earth: A Rooftop Farm, Coming Soon
to Your
Supermarket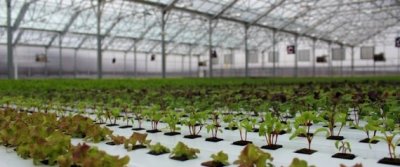 So how to reconcile all this — the growing desire for good, local food; the
ability to do it at an affordable price; and the infrastructure to deliver it on
a scale so that most Americans can access it? Enter urban farming innovator
BrightFarms, which is skipping the whole shipping part of the food system
equation and bringing the farm — in the form of sustainable hydroponic
greenhouse — right near or even on the rooftop of the grocery store.
It was CEO Paul Lightfoot's love of locally grown produce that first inspired
him to do something to improve our food system. The company designs, finances,
builds and operates the greenhouses; the grocery store agrees to buy the produce
that BrightFarms grows.
The growing process is ultra-efficient, too: a one-acre greenhouse is capable of
growing up to
500,000 pounds of pesticide-free produce a year, with 10 times
less land and seven times less water than conventional field agriculture. Water
is recycled through a closed loop system and there is no agricultural runoff.
BrightFarms first greenhouse, in Bucks County, Pa., started delivering greens,
herbs and tomatoes to regional grocery chain McCaffrey's just this past January.
But the company already has an additional seven greenhouses in development and
is now looking for a new 200,000-square-foot site in New York City, after
recently terminating a lease it signed in 2012 for a rooftop site in Brooklyn's
Sunset Park.
All this can't be thrilling the big produce (i.e., tasteless tomato) companies,
as BrightFarms starts to displace their products on supermarket shelves.
BrightFarms isn't the only agricultural reformer, either: Gotham Greens is
already producing 100 tons of greens a year for New York City; Chicago vertical
farm
FarmedHere is on track to produce a million pounds by the end of this year.
But with five billion of us living in urban areas by 2030 and our natural
resources exploited to the hilt, long-distance produce is going to have to
become a thing of the past. "Any major changes in a system are likely to
generate opposition," says Lightfoot. "We are not afraid to ruffle a few
feathers to be the change that we'd like to see in the world."
---
Is Plant Cloning too futuristic or unethical?
 

Good Heavens no!

When you were a kid, did you ever watch your Mom take cuttings from a neighbor's

rose bush and "root it" for her

own garden? Well, she was cloning it!

And that's all cloning plants is… taking a cutting from an adult female (Momma

Plant)… forcing it to grow roots… and Voila! New baby plant with the exact same

genetic makeup (including sex) as the original plant.

Why wait for seeds to germinate when you can produce 6″ plants in a couple of

weeks?

Cuttings and cloning is a very good way to propagate new plants (for free) from

an adult plant that has proven to have "good genes". And this method has been

practiced for virtually centuries; it is not futuristic, nor does it require any

scientific knowledge or specialized skills.

Read more about Jumpstarting Propagation with cloning here:

http://www.hydroponics-simplified.com/cloning-plants.html

 
---
UPDATE ON OUR WINTER GARDEN
 Hoops of Hope (Our original Hydroponic SURVIVAL GREENHOUSE)
We have a great new start on a winter garden in our
hoop Solexx panel greenhouse. We have decided to wait until after harvest of
the winter crop to put in place solar powered units. It should be much
more clear how this works and how best to arrange in a greenhouse
without plants in the way. So look forward to that in the spring. Below
are pics of our winter hydroponic garden today, 1/1/15: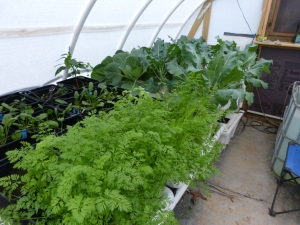 That's carrots, onions, spinach and basil in the front
unit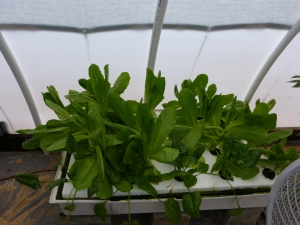 Lettuce raft and a new baby cauliflower.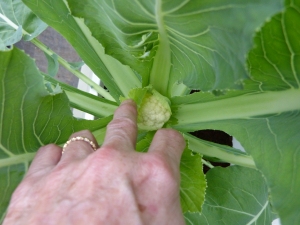 ---
Video of the Month:
Vertical Hydroponic System
http://youtu.be/EJjAWF2DfWY
---
Hydro Tip of the Month- 
How do your veggies get pollinated in
a back bedroom? It's not as big a problem as you would imagine.
http://www.hydroponics-simplified.com/plant-pollination-process.html
---
We hope you have enjoyed this issue of The Urban Farmer Ezine. Each month, we will bring you another inspiring photo, gardening quote or idea, plus fresh new hydroponics news, techniques & products.
Insiders tips to get you growing…

Hydroponics-Simplified.
---
Back to Back Issues Page