This post may contain affiliate links. That means if you click and buy, I may receive a small commission. Please read my full disclosure policy for details.
HYDROPONIC MICROGREENS
Healthy, Tasty & Fun!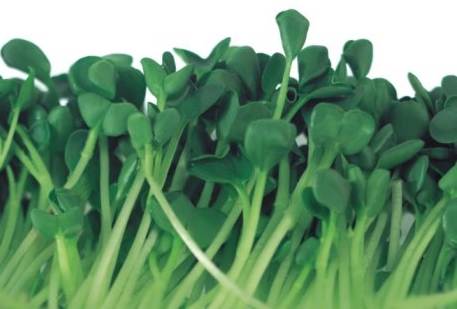 Quiz for ya:
What's bigger than a bean sprout,
Smaller than a lettuce leaf,
Takes 10 days to grow,
AND, adds a burst of flavor, color and style
to your dinner plate?
ANSWER: Microgreens!
You may have heard about them and wondered what they were…
Ever dine at a pricy restaurant and sit down to this?
| | | |
| --- | --- | --- |
| |  Or this? | |
The garnish on top of those dishes was microgreens. And if you skipped eating them, you missed a wonderful taste treat and a healthy dose of vitamins, minerals, and antioxidants.
About Microgreens
Microgreens first became popular in California, but have rapidly spread into mainstream America. Microgreens are tiny edible plants, harvested at the peak of tenderness, nutritional content and flavor.
They can be found at health food stores, vegan restaurants, and upscale restaurants with innovative chefs wanting to add color, flavor intensity and texture to their gourmet dishes.
But why wait for an expensive meal out to enjoy these delightful garnishes? You can easily grow your own hydroponic microgreens on a kitchen counter with very little investment. They are fun and easy to grow, educational for the kids, and make a perfect introduction to hydroponics. 
The entire process only takes 10 days from seed sprout to harvest, so this hydro garden project provides instant gratification, over and over.
The beginners kit shown below would also make a great gift for the black thumb in the family– can't fail with this one.
There's a huge variety of microgreen seeds available, and the tiny plants can be used in your own kitchen for salads, sandwiches, slaws, soups and to garnish fancy dishes.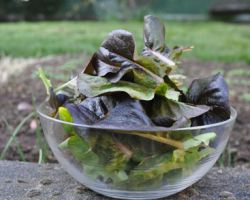 Hydroponic Microgreens Varieties
HEALTH: Microgreens produced for health reasons include wheatgrass, flax, red Brassica, sunflower and buckwheat greens.
SALADS: There are many varieties of baby salad greens, including spinach, various lettuces, mustard, chard, kale, mache, and broccoli.
HERBS: Microgreen herbs provide delicate, subtle flavoring: arugula, basil, radish, chives, parsley, cilantro, dill and mint.
Sounds like fun! How do I get started?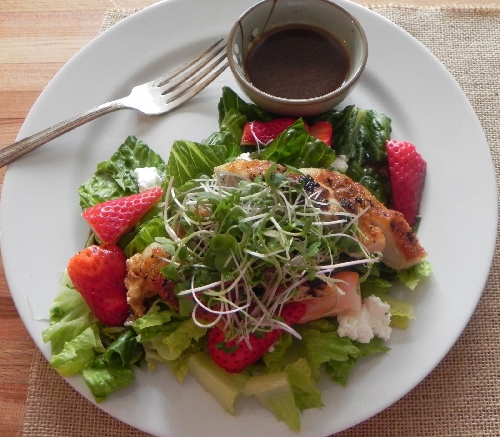 Hydroponic gardening methods are absolutely ideal for microgreen
production, as they provide healthy, clean, grit-free seedlings.
Hydroponic microgreens grow best in trays on specialized rooting mats
(we recommend Micro-Mat pads), with no soil in sight.
They make a fantastically nutritious addition to your daily heath smoothie.
Kindly use our Amazon affiliate link for more information:
Supplies you will need: (Check out the cool kit below!)
*Microgreen seeds (buy seeds produced specifically for microgreen production, and avoid any seeds that have been treated with fungicides (read the label)
*pH strips or pH test kit
*Misting spray bottle (never used for any other purpose)
*Cheap florescent Gro-stick (Walmart) or T-5 fluorescent lamp
Steps to growing hydroponic microgreens seedlings:
1. Place the grow mat in the tray and saturate with pH balanced water (5.5-6.5)
2. Sprinkle the seeds evenly and rather thickly over the pad. Spray with the mister bottle, using clean water.
3. Cover the tray with lightproof cover so that the seeds are in darkness.
4. Days 1-5: Keep covered, but open in the morning and at night for a good misting (every 12 hours).
5. Days 6-10: Remove the covering, place fluorescent lighting over the tray. Water by pouring small amounts in the tray itself (no more misting). Preferably, use weak hydroponic solution (1/4 strength) for best results, but you can just use pH balanced water.
6. Day 10: Harvest by cutting off the seedlings at the base of the stems. Rinse well, allow to dry, store in refrigerator in a Ziploc, or enjoy for dinner!
Microgreens Seeds, Kit & Supplies
Hydroponic Microgreens Starter Kit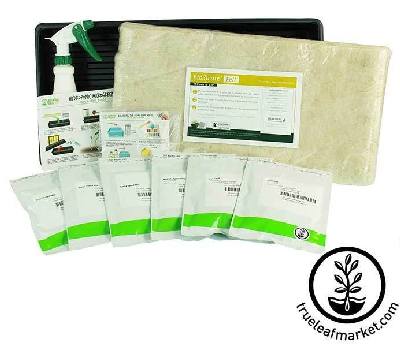 ---
Hydroponic Microgreens Growing Pads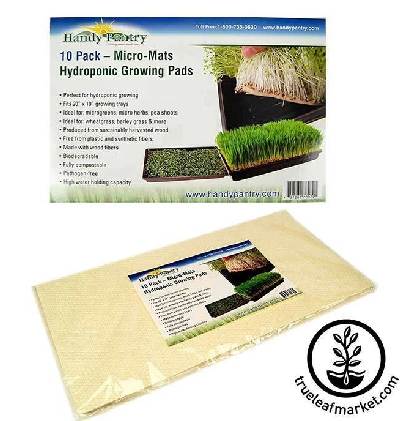 ---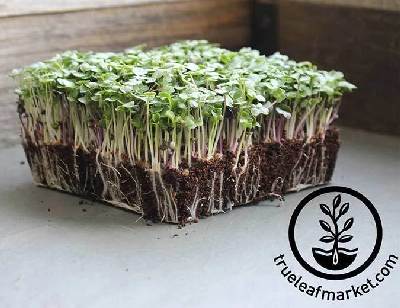 HYDROPONIC MICROGREENS TIPS
Microgreens can be attacked by pests or fungus, just like any other hydroponic plant. Protect against this with cooler temperatures (60-70s) and adequate ventilation (circulating fan if necessary). Keep a careful eye out for any bugs, and eliminate them immediately.

If plants are infected by fungus or begin to rot, discard the pad and greens and sterilize the growing tray with vinegar or weak bleach solution. Rinse very well before reuse.

Implement all food safety precautions: use high-quality water, sterilized trays, and wash your hands before handling the plants.

If you get good at this, check in your area for high-end restaurants and health food stores. See if you can find a niche market for your produce. Lots of people are doing just that. 

Be the first in your area! See below.
HydroCycle Professional 
Vertical Microgreen System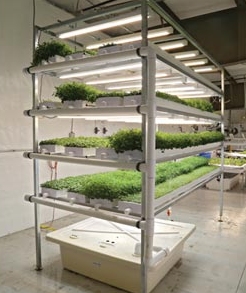 Found that niche market in your town for microgreens? Start your own cottage industry with ease!
The HydroCycle Pro Vertical Microgreen System is very easy to learn and operate. Produce high yields immediately after setup to local restaurants, healthfood stores and the produce departments of grocery stores.
Do your market demand homework, then get started!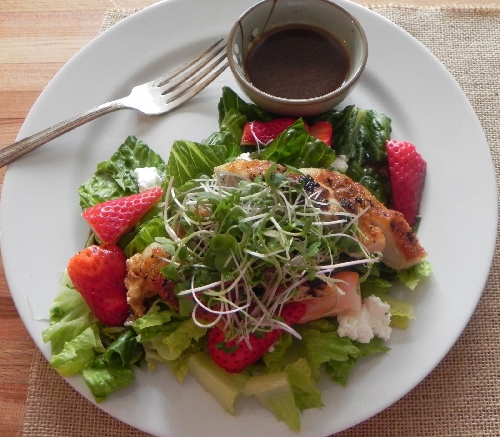 HYDROCYCLE PRO MICROGREEN SYSTEMS:
5' Long System #115276- (51"W x 80"H x 58"L) $2,935
10' Long System #115277- (51"W x 80"H x 116"L) $3,425
Contact us for the best prices on the 'net!

RETURN FROM HYDROPONIC MICROGREENS TO LETTUCE PAGE
New!

Comments

Have your say about what you just read! Leave me a comment in the box below.