This post may contain affiliate links. That means if you click and buy, I may receive a small commission. Please read my full disclosure policy for details.
GROW LIGHT MOVER
Simply Amazing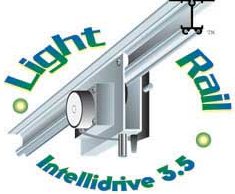 So what the heck is a grow light mover, and do I really need one?
First off, NO, you don't need one. But you might want one…
Read on…
A light mover is simply a rail installed either to your ceiling beams, or to a sturdy frame erected over your garden. A small motor with your HID lamp attached slides back and forth in the rail, moving the light back and forth over your garden in a fixed linear (straight line) pattern.
Why would I want my light to move?
ADVANTAGES OF GROW LIGHT MOVERS

So to recap, there are three obvious advantages to using a grow light mover:
More efficient/better light coverage; more even growth
Eliminates hotspots; allows you to get your light closer to your plants without burning them
Enables you to use less wattage/fewer lamps with the same or even more light coverage. Lower light bills!
LIGHT EFFICIENCY
MUCH more light bathes your plants when the grow light is in motion. With a stationary light, any area that is shaded will remain in the shade. But with a mover, light will hit each plant from different angles. All those shaded spots get their turn from the lamp as it moves through it's path.
This can increase light coverage from the same lamp by 140%. Depending on the lamp, you can save as much as $300 per year, while enjoying more robust growth from your plants.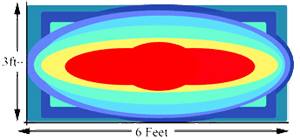 SOLVES THE HEAT PROBLEM
With HID lamps, you must keep the bulbs quite high to avoid burning your plants. By using a light mover, you can place the lamp much closer to the garden. If held stationary, it would burn the plant; however, by moving it along at a steady pace, the light does not remain in place long enough to burn.
Lights closer to the plant= superior plant growth and production.
LESS WATTAGE-FEWER LAMPS
Let's take an example here. For a traditional 16 square foot garden area (4 X 4 foot), you would need a 400 Watt HID lamp, hung 18-24 inches above the plants. With use of a light mover, you could light the same garden by rearranging your garden (roughly 3 x 6 feet), using a 250 W lamp and hang it just 12 inches above the plants.
Less wattage= lower light bills. Or just keep the 400w lamp and watch your plants thrive like never before.
1,000 watt HIDs put out LOTS of heat. Install a light rail and you can place this monster closer to the plants without burning them. Once you get the right combination of height and timing, you can explode plant growth with 1000 Watts of growth-charging energy!
And no more crispy critters!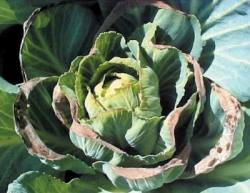 Looking for a super lamp deal for your hydroponic garden? How about this:
400 watt dual bulb conversion HID... under $200... delivered.

THE LIGHTRAIL 3.5 MOVER

THE LIGHTRAIL 3.5 IntelliDrive 10 rpm Light Mover
Travels 4 ft. per minute, and pauses at each end of the rail (pause timing adjustable). The kit comes with a 6 foot rail and 10 rpm motor.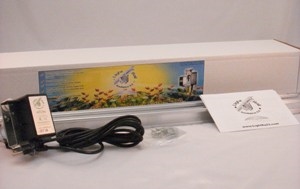 The Light Rail 3.5 has adjustable switch stops, so lamp travel can be any length you wish. So you can adjust from your small area start-up plants to a full 6 foot long mature garden.
Expansion Options:
Add an additional 6 foot rail system with motor-less trolley to add an additional lamp to a 6' base system. 12 feet, 2 lamps, one motor. Sweeeet.
Add a 3 foot extender rail to lengthen the reach of an existing 6 foot single lamp system to 9 feet. Now you're getting the best bang for your lighting buck!
ORDER YOUR LIGHT RAIL 3.5 HERE:
Please use our Amazon affiliate link to order:
LIGHT MOVER TIPS
There are other grow light movers which rotate in a circular pattern over the garden (like a ceiling fan). We do not feature those here, as they are harder to set up and routing the wires can be very difficult. For most gardens, we recommend the linear rail system above.
Linear rail grow light movers can accommodate air-cooled lamps. An Auxiliary Trolley can carry your vent tubing and move along your rail in unison with your motor and this works best to have the vent tubing in line with the rail.
Keep in mind that all your plants under the grow light mover must be approximately the same height at the same time. Hopefully, the reason for this is obvious ;-)
RETURN FROM GROW LIGHT MOVER TO HID LIGHTING
New!

Comments

Have your say about what you just read! Leave me a comment in the box below.