This post may contain affiliate links. That means if you click and buy, I may receive a small commission. Please read my full disclosure policy for details.
FUNGUS GNATS

Ever see a swarm of little black flying gnats around your precious produce? Just give the branches shake and see if a swarm of these pesky insects appear. If so… you have fungus gnats!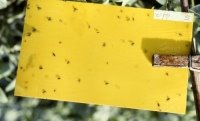 FUNGUS GNATS


PLANT DAMAGE
These gnats
infest the growing medium and their larvae eat the plants roots. Plants
loose vigor and the leaves turn pale, but the plants won't actually
die.
INSECT APPEARANCE
Tiny
grey or black flies with long legs and antennae, flying aimlessly
around your plants. You will also find them in the growing medium, and
possibly even swarming around your nutrient vat. Fungus gnats like damp,
decaying organic matter.
TREATING LIGHT INFESTATION
You can try sucking up many of the annoying little buggars with a vacumm nozzle, but this is not a permanent solution; try Yellow Sticky Traps, too.
Thanks for ordering via our Amazon affiliate link:
BIOLOGICAL WARFARE 
Parasitic nematodes or predatory mites
CHEMICAL WARFARE 
Drench the medium with insecticidal soap or Neem Oil.
Use Go Gnats specifically to treat fungus gnats, it can be added to the reservoir; follow directions carefully.
Amazon affiliate link:
---
Return From Fungus Gnats to Pests & Plagues

RETURN TO HOME PAGE
New!

Comments

Have your say about what you just read! Leave me a comment in the box below.