This post may contain affiliate links. That means if you click and buy, I may receive a small commission. Please read my full disclosure policy for details.
Thinking of Going Pro?
Commercial Hydroponics Farming
Okay, so you've played around with some hobby Hydro systems and now you've started thinking about going pro?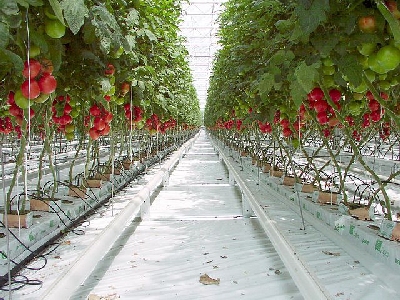 You've seen the pictures… Rows and rows of clean, prolific tomato vines, nestled in a beautiful, climate-controlled greenhouse. And maybe you're thinking… I could do that!
Well, you need to give careful consideration to the amount of work and possible risks involved before you take the plunge. Below, we provide some serious "food for thought" for you to ponder as you form your business plan.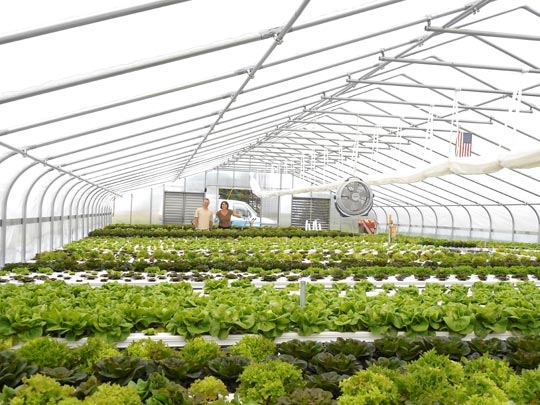 Advantages of Commercial Hydroponics Farming (Over Traditional Soil Farming)
~ Quick setup; faster growth
~ Much more crop production from a smaller footprint
~ Uses 80- 90% less water than traditional farming
~ Eliminates soil-born diseases and bacteria
~ No weeds= no herbicides
~ Crop rotation is not necessary
~ Greatly reduced pesticide use
~ Total control of plant nutrition and hydration
~ Outside weather is not an issue in a well-ventilated, heated/fan-cooled greenhouse
~ Operation is easily expanded by adding green houses and hydroponic modules. 
~ You can set up a hydroponic farm anywhere, including in urban buildings and deserts
Disadvantages of Hydroponics
(VS. Soil-based Crops)
~ Strict cleanliness and hygiene must be followed
~ High initial costs to set up an operation
~ Electrical costs to maintain aeration and pumping of the solution
~ Extended power outage can devastate a large operation
~ Fungus and molds can thrive if greenhouse is not properly ventilated
~ Hydroponic produce cannot be certified as organic in the U.S.
~ Diseases and pests can be spread to all the plants using a shared nutrient reservoir
~ System must be constantly monitored and adjusted; pruning, trellising, harvesting cannot be delayed or neglected
~ Skilled labor needed to operate and troubleshoot the hydroponics systems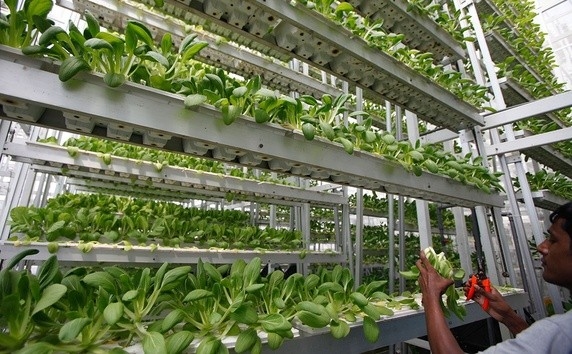 Tips and Thoughts for a Successful
Commercial Hydroponics Farm
~ Commercial hydroponics farms are most profitable in areas with drought conditions and/or infertile land. Do not set up shop in a rural area where tomato, cucumber and lettuce farms prosper. 
~ The most successful hydroponic commercial operations stick to just a few popular and highly profitable crops (notably tomatoes, peppers and lettuce)
~ Hydroponics today is a niche food industry, driven by consumer demand, commonly in upscale (urban) food markets. The demand for hydroponic vegetables has risen dramatically in those markets.
~ Do your homework by experimenting with different hobby-sized hydroponic systems until you thoroughly understand the process. You must have success with small gardens before you ever consider going commercial.
~ Plan and implement methods to reap the highest possible yields in the smallest amount of space; either grow up in the air as high as possible, or low-growing crops densely spaced. Both must be continuously harvested and replanted.
~ If you don't have a love of farming and a passion for hydroponics, do not set up a commercial system.
~ As with any new business, you must have the entrepreneurial spirit, determination to overcome all obstacles and a clear vision (business plan) if you hope to succeed.
~ Commercial hydroponic gardening requires an enormous amount of work. This is not a part-time job.
~ Think of ways to make your product more attractive and desirable than the rest. Possible ideas: Unique packaging, cutting of produce, combinations of vegetables/herbs in one package, include recipes and/or spice-packs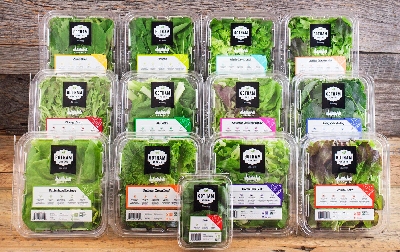 Below are some quality, affordable professional Hydroponic farming systems that we offer. Please Contact Us for Details, shipping, and the best price on the 'Net!
We also offer outstanding Commercial Greenhouse Kits!
HydroCycle Pro & Commercial NFT Lettuce Systems
This NFT system produces lush, clean, healthy lettuces on a 6-week grow cycle. This system is specifically designed to create an easy to operate, complete NFT system for leaf/bib lettuce, herbs and more. A virtual lettuce factory! Quality hydroponic produce is in high demand, cash in on the growing market.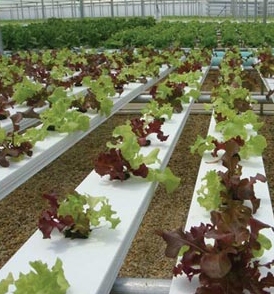 Ready to go pro? The FarmTek Pro and Commercial Hydrocycle NFT Lettuce Systems are ideal for modest farms up to large-scale greehhouses.
Hydrocycle Pro NFT Lettuce Systems- from 6×12′ to 12×17′ costs= $1,481 to $2,469
Hydrocycle Commercial NFT Systems– from 30′ wide X48′ long, up to 132′ long; costs= $8,426 to $20,523
Contact us for details and specs, shipping costs and how to buy one of these top quality FarmTek systems at the lowest possible price .

Hydrocycle Float Beds
for Lettuces, Greens
Go pro with a commercial float bed, ideal for leafy greens, including lettuce, Swiss chard, kale and herbs. This is probably the simplest hydroponic system you could go with. The plants are suspended on a styrofoam raft while their roots dip into the nutrient-rich water below. Customize the spacing of your plants by drilling your own holes in the float bed.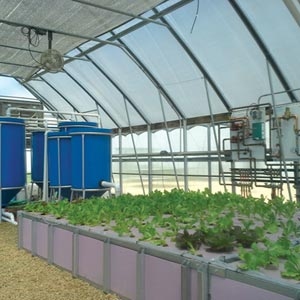 Ready to "go pro"? Create a beautiful and lucrative commercial float bed, available in 6 sizes:
#115330- 8'X8′ Raft Bed- $693
#115331- 8'X16′ Raft Bed- $1,145
#115332- 8'X24′ Raft Bed- $1,462
#115333- 8'X32'5″ Raft Bed- $1,899
#115334- 8'X48'8″ Raft Bed- $2,712
#115335- 8'X56'8′ Raft Bed- $3,134

Contact us for details and specs, shipping costs and how to buy one of these top quality FarmTek systems at the lowest possible price .
Professional Dutch Bucket Systems For Tomatoes, Eggplants, Peppers
Create the ideal greenhouse tomato or pepper farm with Dutch "Bato" Bucket Top Drip Systems. We offer complete gardens that are automated, and do all the work for you. Price includes patented buckets, reservoirs, timers, all plumbing.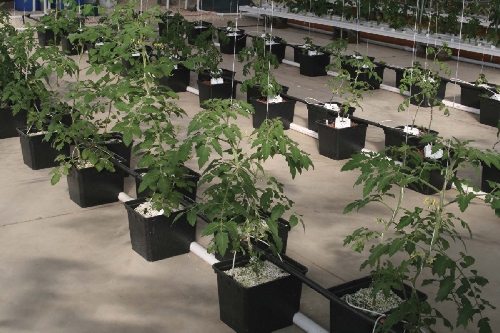 Ready to "go pro"? Create a beautiful and lucrative greenhouse PolyMax Dutch Bucket System, complete with plumbing, timers and reservoirs.
#112529- One row of 10 Dutch Buckets– $708
#112534- Two rows of 12 Dutch Buckets– $1,021
Contact us for details and specs, shipping costs and how to buy one of these top quality FarmTek systems at the lowest possible price .
Vertical Gardens for
Commercial Greenhouses
Vertical gardening systems are "Tailor-Made" for the most productive commercial greenhouses you could ever imagine. "Growing UP" allows maximum produce from minimum space.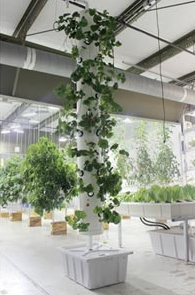 We highly recommend and sell the the professional/commercial vertical garden shown above for a greenhouse operation. Hydrocycle Aeroponics Garden offered by Farmtek.
Read all about the Aeroponics (fastest turnaround time) Vertical System here.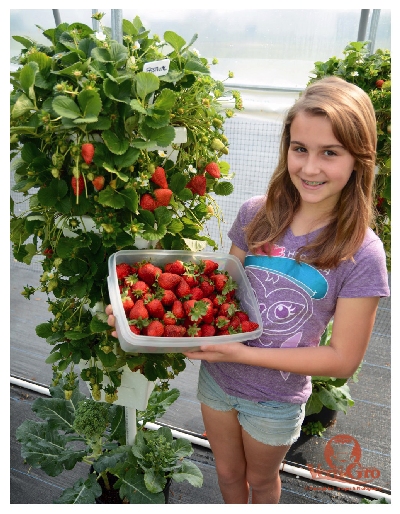 Need room for your new hydroponics farm? Read up on commercial greenhouses.
---
New!

Comments

Have your say about what you just read! Leave me a comment in the box below.