This post may contain affiliate links. That means if you click and buy, I may receive a small commission. Please read my full disclosure policy for details.
HYDROPONICS PLANTS
Tips On Choosing The Best Crops


Do you know how that red, ripe-looking tomato in your grocery store came to be?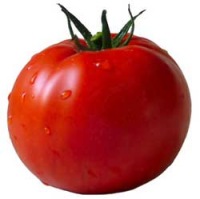 ---
Well, first it was bred to have tough skin so it would hold up during shipping. Then, it was harvested green and unripe and held in cold storage. Finally it was gassed with chemicals to turn it red and ripe-looking. Yum! Absolutely tasteless!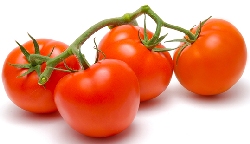 They look beautiful, ripe red and sweet... but they're not. That's what has
happened to the taste of store-bought tomatoes, and many other vegetables, too.
Hybrid strains are developed to favor safe shipping and long shelf life... at
the expense of flavor and nutrition.
You can reclaim tasty vegetables and fruit for your family with a hydroponic
garden. Pick a fragile but delicious variety--- give it all the proper
nutrients--- let it vine ripen--- and enjoy your very own home-grown, tender
sweet produce!
VARIETY... The Spice of Life
We advocate that you start your hydroponics plants from seed. We have
created a great page explaining how to start seeds properly here:

Seeds & Seedlings.
Of course, you can always just go to the local garden center and pick up some
vegetable seedlings (baby plants). You will likely find tomato, pepper,
eggplant, and cucumber seedlings in spring, and baby broccoli, cabbage and
lettuce plants in the fall.
Although you can use store bought seedlings for your
hydroponics plants, there are some drawbacks to doing this. You must wash off
the soil from their roots, which can injure them. You also can be introducing
diseases, pests and fungi into your sterile hydroponic setup, which might be
very hard to eradicate.
You are also missing half the fun and one of the major advantages of home
gardening--- variety. In buying nursery seedlings, you are limited to just a
couple strains THEY chose. Instead of tough-skinned, tasteless C-322x strain of
tomatoes, you can grow your own delicate, savory Burpee Big Boys from seed!
Get a few seed catalogs and study them. It's great fun to pick out the best
possible hydroponics plants varieties for your needs and growing climate. And you can get
adventurous and try some really unusual or brand-new strains of plants.
I have always loved Burpee Seeds in particular for their innovative hybrids program. Ever taste a Burpee Big Boy tomato?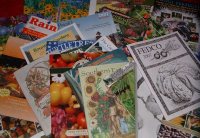 These are some seed companies which put out colorful, fun and informative
catalogs. Find 'em online and order their print catalogs. Poring over seed
catalogs while it's snowing outside is great for lifting your spirits, and is a
Great American Pasttime.
Interested in heirloom vegetables? We have a great page on them here: Heirloom Seeds.
---
At first anyway, try to stick to bush,
self-pollinating, and special "greenhouse" varieties of vegetables. We list some
"hydroponically-friendly" varieties to get you started on our 

Veggies Page. And if you do ever need help with pollinating your indoor
plants, there's always the 

Pollination Page.
SPACE REQUIREMENTS
Tomatoes, peppers, eggplants, broccoli,
beans, peas--
1 sq foot
Cucumbers, cabbage, squash, melons------ 2
sq foot
Basil, Bibb and Buttercrunch
lettuce--------- 6" x 6"
Looseleaf and Oakleaf lettuce----------7"
x 7"

Herbs------------3" x 3" or 4" x 4"
There is more "food for thought" about choosing
what to plant and when, here: 

What To Grow?
KEEP IT GROWING!

With a little effort and attention, you can keep your hydroponic garden
producing constantly, and reap an incredible amount of produce from one small
plot.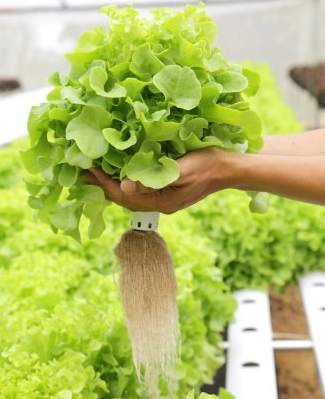 The trick is to keep planting. Never let a productive inch remain fallow.
Radishes are good for this. Once you harvest that head of lettuce or cabbage,
plant more lettuce or sow radish seeds to take it's place.
Once produce is full-grown and ripe, pick it,
even if you have to give it away. If left on the vine, it signals the plant to
stop producing.
As far as lettuces and other greens, don't just pull the tough
outer leaves. Occasionally harvest the entire plant and enjoy the tender, tasty
lettuce hearts in a super gourmet salad. Re-seed the spot.
And keep it
growing...
RETURN FROM HYDROPONICS PLANTS TO HOME PAGE
New!

Comments

Have your say about what you just read! Leave me a comment in the box below.