HYDROPONIC LIGHTS
Which One Is Best?
Hydroponic lights...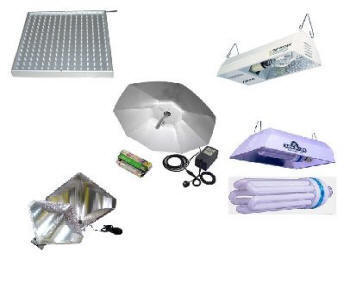 Talk about confusing! Just open any hydroponics catalogue and you'll quickly get lost in all the different hoods, bulbs, ballasts and timers offered. In keeping with our "mission" we'll make this whole lighting thing simple for you, too.
First we'll explain how the different hydroponic lights work and when to use them. Then at the end we offer our pick for a simple, inexpensive all-purpose lighting system! How simple is that?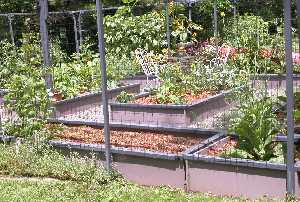 Out of doors, a vegetable garden needs at least 4-6 hours of direct sun; plus 10 more hours of bright light. So for your inside hydroponics garden, you will need to duplicate this. Plan on 14-16 hours of bright artificial light, followed by 8-10 hours of darkness. Plants need dark down time, just like you, in order to metabolize and rest.
Put your hydroponic lights on a timer for the proper routine. Then set it and forget it!
 
K.I.S.S. (Keep It Simple, Simon)


After much surfing and comparison, we found a company that puts out a complete conversion light setup at a super price! See photo below.

This highly recommend kit, for a typical 4' X 4' garden, includes:


    *400 watt HPS conversion lamp/with hood
    *Remote ballast
    *400 watt HPS bulb
    *400 watt MH conversion bulb (slimline)
    *2-plug grounded timer

    All this for under $200! You can't beat that for a combo light.
    Get it here: HID Combo MH & HPS Lit Kit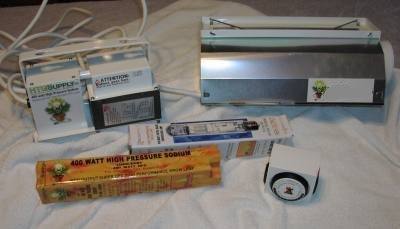 We have tested and use these kits and they work just great!
Disadvantage: The hood is a little flimsy and tedious to put together. If you've got the bucks, then upgrade to a more expensive hood. But for the price, we're very happy with this light kit. The ballast and cords are heavy duty.
 
---

Now for a bit of essential education...


WHICH LIGHTS WORK BEST FOR YOUR PLANTS?

GOOD: T5 High output fluorescents
BETTER: HID (High Intensity Discharge)
BEST: the Sun
OTHER: LED grow-light panels. A caution before you buy...
 
 
 

Custom Search
RETURN FROM HYDROPONIC LIGHTS TO THE HOME PAGE