Update on homemade NFT The next step
by Barry Thoele
(Staples, MN)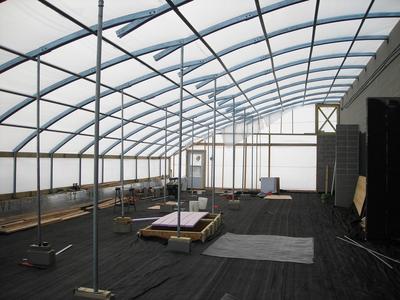 Solar Greenhouse 30 x 96
(Click on each photo to enlarge)

My last post was stage two of a homemade NFT hydroponic system. Made from readily available materials purchased at a hardware retailer.
This step is the fourth in the lesson.
The first was working with multiple small 90 plant 6 gutter 17 gallon systems to get to know how they operate. I quickly learned that while you can grow with a small reservoir there is such a thing as to small.
A 55 gallon plastic barrel laid on side and braced between two wood blocks, with a 8" by 12" hole cut works great but will still need water replenished daily.
This is because as water is taken up by the plant the nutrients that plant can use are taken up but more water than nutrients is used by the plant. This causes an increase in the concentration (EC) of the nutrients.
A 90 plant system of romaine can drink up to 10 gallons of water per day. In a 17 gallon system that can cause real problems (tip burn) on most greens.
Balancing nutrients, pH, working with various test meters. I have to say meter accuracy is a key and there are many both good and bad meters out there.
It pays to do your homework.
The second phase was expanding the 90 plant system to a 450 plant 30 gutter system. And operating on a contract with Central Lakes College I ran the fall and winter of 2011-2012 growing indoors with HID lighting.
Two rooms 25 x 32 for tomatoes, cherry tomatoes, and cucumbers. And a 14 x 32 for greens Kale, basil, three types of lettuce, parsley, cilantro. and a nice healthy crop of spider mites brought in by field workers.
Last summer and winter I ran a 700 plant NFT system.
Flawlessly all summer and into winter in three buildings totaling 4000 sq ft grow ing tomatoes cherry tomatoes, cucumbers, bell peppers, kale, basil, romaine. spinach, thyme and roesmary, all hydroponically.
Though the fruiting crops were grown in my own bag system on overhead trellises.
This building is for greens and cwill contain when full 2520 plants in two 1260 plant system. To produce 450 heads of romaine per week year round.