This post may contain affiliate links. That means if you click and buy, I may receive a small commission. Please read my full disclosure policy for details.
SOLEXX REVIEWS Honest Testimonials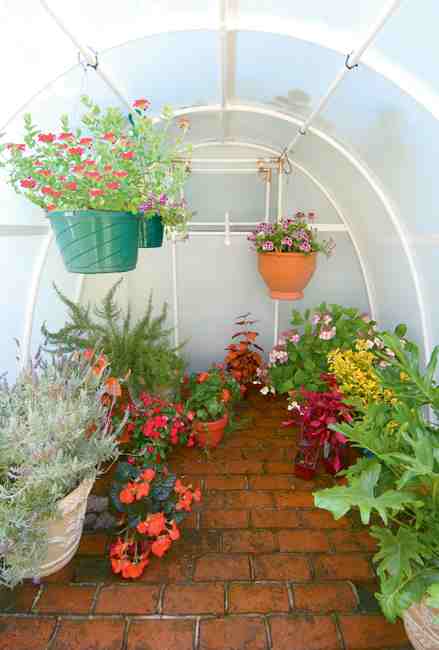 We surfed the net for you, and found several honest reviews on Solexx greenhouses. Included is the URL address if you would like to view the actual testimonials firsthand.
But first, we thought you might like to see this video of a couple with a Solexx covered commercial greenhouse:
[IMPORTANT NOTE: Do not click on the video after it has started, or you may leave this website. And you haven't read the reviews yet!]
WRITTEN REVIEWS
Posted by gardenallyearlong 8 (My Page) on
Sat, Jun 23, 07 at 15:14
"Hi Calm3,
I have a Solexx Early bloomer and love it! We had a long cold snap last year and all of my tender perennails made it. The only casualty was a non-hardy banana in a very small container. I did not have any additional heat and only watered twice during the winter. We also had a bad storm with heavy winds that knocked down two large fir trees right next to my greenhouse. We have lots of mold here but there isn't any on my greenhouse.
I've seen the Rion set up too, and I would say there is no comparion as to quality, even though the Rion is more expensive. My only complaint with the greenhouse is that I wish it were larger.
Good luck with your purchase and have fun!"
---
Posted by plantladyco z5Colorado on
Fri, Jun 29, 07 at 11:56
"I used to own a Solexx (it was Farm Wholesale then)
Loved it. Anchored well, it was very sturdy in wind and undamaged by hail.
In Zone 5 I grew from Feb (cool crops) to Oct.
Would still have it if I hadn't moved."
---

URL address for 2 above reviews:
http://forums2.gardenweb.com/forums/load/strucs/msg061402044588.html
---
High wind gusts – no problem for Solexx
August 22, 2011 by Bryen
Stayton, OR
United States
"After riding a level one tornado with my Solexx greenhouse, I am a believer in not only the performance of the greenhouse but the durablity of it also. Shingles came off my homes roof, a shed roof was ripped off, the car port frame was bent and branches along with trees were down but not my Solexx Greenhouse!! It looked like I just got done assembling it!! No damage to the paneling and not one anchor was pulled nor loose and that was with 14.5″ anchors, just think what the 30″ ones can do!!! Thanx Solexx!!"
URL for above review:
http://www.greenhousecatalog.com/product/8-solexx-conservatory-greenhouse/conservatory-greenhouse
---
"We have bad winds and we see no problems (with the Solexx paneling). The plastic is holding up great, It's Incredible!", Doug R., Idaho
---
"We had two greenhouses. One was a hoop house covered with greenhouse film. The other is 12 x 24 covered with the Solexx Panels. The hoop house was recently destroyed by snow and wind, the Solexx Greenhouse is still up and growing many of our winter greens.
Having had both kinds of greenhouses, don't waste your money on the thin (4 mil) filmed plastic greenhouses. They always end up ripping. Pay the price and get something that will last for years.
This sheeting is great in the summer with a shade cloth, and fantastic in the winter. I am not happy that I am going to have to build another greenhouse to replace the one I just lost. I will be using nothing but the hard Solexx Panels this time around." – Katie, Colville, WA
---
"We purchased enough Solexx material to commence our first greenhouse renovation (metal A-frame) and were immediately impressed with its ability to flex, bend around corners, withstand extending out long sheets over 100 feet in length as single cut sheets. After experiencing the ease of which we could cut long sheets and apply them on the sidewalls, we decided to run our roof covering lengthwise, instead of the conventional, horizontal direction which requires more cuts and overlaps; thus additional waste.
The results were better than we envisioned on the first greenhouse. On the following set of greenhouses (we renovated 15 gutter connected Quonset type houses) I even took a walk on the roofs to take pictures. The materials strength was evident with every step I cautiously took."
Richard Munoz, McLellan Botanicals San Antonio, TX
---
"Andy constructed a large greenhouse using 50 Farm Wholesale (Solexx) greenhouse panels. A tornado hit the school and did damage to the grandstands and two greenhouses nearby, but the corrugated plastic panels were not damaged." Andy F, California
---

"Solexx greenhouse panels protect Blue Heron's nursery stock from the winter cold and wind. Last year we increased our quantity of cold frames for our winter production program and added twenty-seven new houses. We decided to do endwalls instead of simply covering with poly as we have done on most of our previous houses. We had trialed Solexx on three of our houses in 2001 and had liked how the material held up over time. The same Solexx is still being used on those existing ends and door and looks good. We choose to use the same product on our new installations. The cutting and attaching of the Solexx was a breeze, which made for easy installation. Having end walls and doors on those houses has greatly increased productivity. Our house with doors take a fraction of the time to winterize and make pulling early spring orders a snap. Open the doors, in and out, and no hammers necessary. What a nice change!
This year we are looking at replacing all our poly ends with Solexx end walls and doors."
Best regards,
Dusty Lawellin Mendoza
Production Manager
Blue Heron Farms
---

URL Address for previous 5 Testimonials:
http://www.farmwholesaleag.com/reviews.shtml
---