This post may contain affiliate links. That means if you click and buy, I may receive a small commission. Please read my full disclosure policy for details.
Solexx Greenhouse Covering
Best Glazing on the Market
Not interested in a greenhouse kit? Determined to do it yourself?
We still recommend you use Solexx greenhouse covering panels for glazing your DIY greenhouse! Why? Well, you must've missed our discussion on Greenhouse- Plastic or Glass!
—————————————–
Here's a short video on Solexx glazing material:
[Important! Do not click on the video once it has started or you may leave our website 🙁 and we have more to tell you about Solexx panels]
---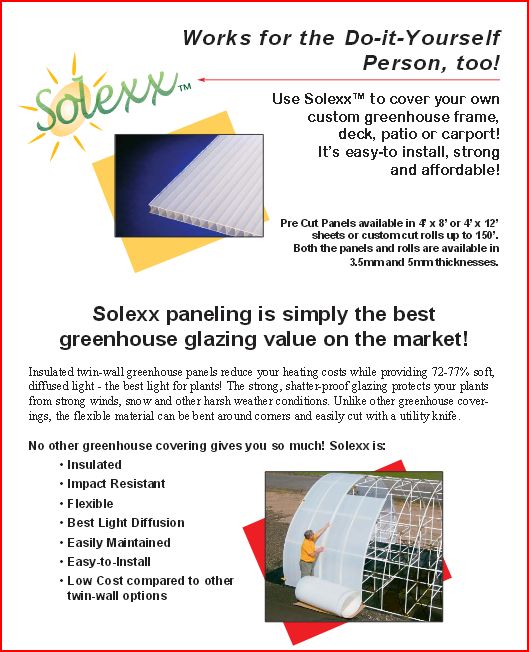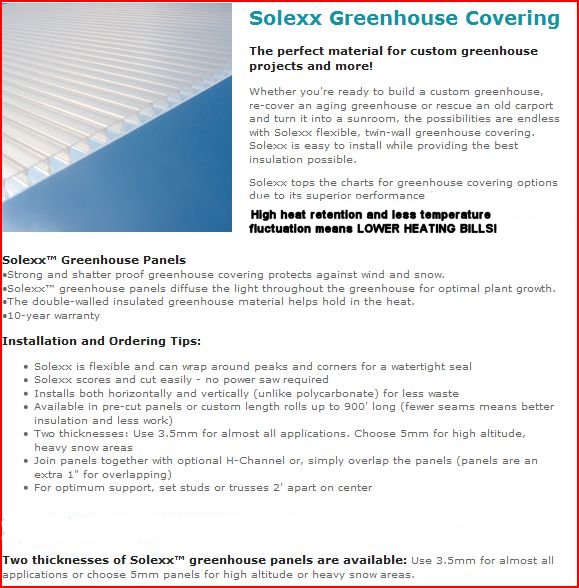 SHIPPING
Solexx greenhouse panels and rolls shipped only to the 48 contiguous
states. Shipping costs on request. We select the most economical shipping method based on your specific order and location to be shipped to.
Available to Alaska and Hawaii
for extra shipping costs (email for costs).



SOLEXX GREENHOUSE COVERING- 




PRICES & ORDERING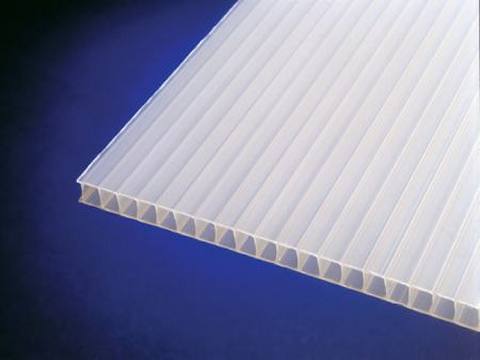 PRICES: (3.5mm thickness)- (5mm thickness available special order)
Custom Length Rolls- 3.5 mm thick- 4'1″W x up to 900′ long   #GSR-160- (CUT)     $7.19/ per linear foot
(Email for ordering/shipping costs)
---
Proud Authorized Dealer of Solexx™ Products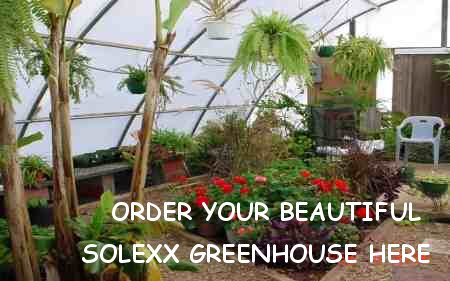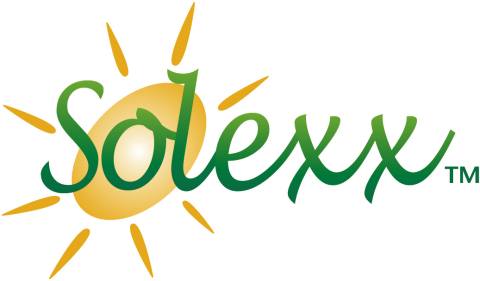 Update! Our long-promised and eagerly-awaited DIY      Greenhouse e-book is ready!
Simon's Super Simple
On-The-Grid, Off-The-Grid 
Hydroponic/Aquaponic 
Survival Greenhouse
Made with Solexx Panels!
| | | |
| --- | --- | --- |
| | | Simply awesome! |
Want to see what others have built using Solexx panels?
Looking for greenhouse accessories?
RETURN TO: GREENHOUSE- PLASTIC OR GLASS?
RETURN FROM SOLEXX GREENHOUSE COVERING TO THE HOME PAGE
New!

Comments

Have your say about what you just read! Leave me a comment in the box below.