This post may contain affiliate links. That means if you click and buy, I may receive a small commission. Please read my full disclosure policy for details.
HYDROPONICS RESOURCE:
Troubleshooting Tool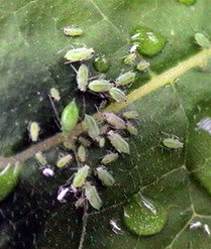 Having problems with your hydroponics garden?
Try our nifty, user-friendly hydroponics resource: a troubleshooting guide to help quickly
diagnose and treat whatever ails it.
Why is our guide so easy to use? Just look up your problem by the "main
symptom", and you're on your way to the solution!
First we review the "Big Picture" for possible obvious problems, the we take you to the Troubleshooting Tool.
Get started below the Google Ad 😉
---
      FIRST CHECK
THE "BIG PICTURE"
FIRST CHECK THE "BIG PICTURE"
Our hydroponics resource for troubleshooting
First, before digging into the topics
below, we suggest you take a quick look at the "big picture" of your hydro
system. Unless you have an obvious insect or disease infestation going on... your
problems most likely have been caused by poor growing conditions. Run through
these obvious solutions first:

Climate
Is the temperature between 60-90°? Is there a 10° drop when the lights go
out for the night?

Is the RH (relative humidity) between 50-70%? (50-60% is best)

Ventilation: Do you have adequate air exchange, or is it stagnant and stale in
there? Is the stale air being vented out somehow?
Do you have a fan gently stirring the leaves 24/7?
Lighting

The nutrient system
Check the reservoir. What temp is the grow juice?
Should be below 85°; under 80° is optimal. 
Check the ph and
concentration.

Is there enough solution, or is the pump sucking air during cycles?

If you suspect any feeding/watering problems, drain the reservoir and start a
new
batch of nutrient solution.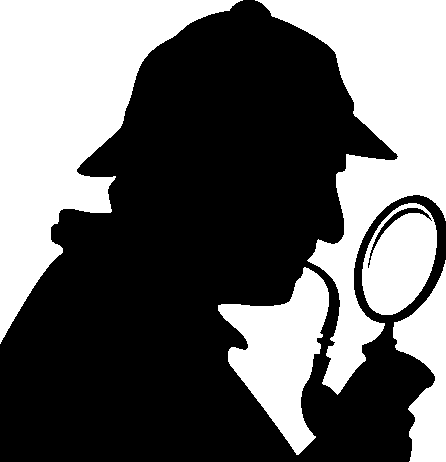 Keep in mind that plant problems are seldom straightforward, and it's too often
the case that opposites (like under- and over-watering or feeding) can produce
similar symptoms. We all have to put on our Sherlock Holmes hat when it come to
diagnosing our plants!
TROUBLESHOOTING
GUIDE
Okay, you've run through all the essentials and found no quick fixes? Try Our hydroponics resource for troubleshooting
 Find your
problem below:


I. Critters
II. Icky coatings
III. Leaves
IV. Blossoms/fruit problems
V. Poor seedlings
VI. Overall growth problems
I.  CRITTERS
Have you found any insects in your garden (crawling, flying)? Identify and treat
them by visiting our 
Pests Page.
II.  ICKY COATINGS
If your plants or medium have a slimy or fuzzy green, white, black or grey
coating, you probably have a fungus or mold problem. Read on:

III.  IT'S IN THE LEAVES

Our hydroponics resource for troubleshooting
Wilted leaves: over or under watering; too dry or too hot [try watering with
clear water].
Wilt Disease: curled up, dried out and dead leaves 

(see Common Plant Diseases)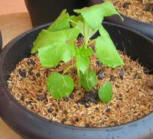 Droopy Leaves:   Temp too high [cool it down]; not enough fluids [check that system is delivering enough
solution];
Nutrient solution too strong [flush plants with clear water only for a week,
then restart with a new batch of nutrient solution] 
Spots: White or silvery spots: 
thrips
or powdery mildew;
Tiny yellow speckles: 
spider mites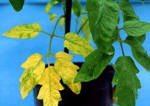 Yellow leaves: Nutrient imbalance (check that ph not too alkaline); overwatering; Any 

whiteflies around?
Note: yellow leaves are normal when the crop reaches end of life. Time to uproot
and start over.
 
Leaf Drop: Sudden temperature change/shock (like when setting out new
seedlings); cold wind/dry air; overwatering.
Could also be 
mealybugs or

whiteflies.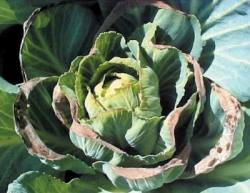 Tip burn: Tips of leaves are brown:
Nutrient too strong [flush with clean water and mix a new batch]. Hot dry air can also burn.
Burn patches on leaves: Too close to the lights (light burn)
 

IV.  BLOSSOMS AND FRUIT
No blossoms:

temperature too low
Blossoms drop: climate problems (too hot; improper light; too humid or too dry;
overwatering; Make sure there is a 10° temp drop at night when the lights go out. 
Blossoms not getting pollinated.
Fruit drop: (Fruit yellows and dries up while still small): Poor nutrition
[check nutrient solution]; light too low or wrong kind of 

lighting.
   
TOMATO WOES
Our hydroponics resource for troubleshooting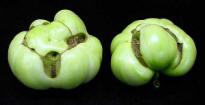 Misshapened/deformed fruits (Also called "Catfacing"): Overall temp too low; insufficient
day-night temp drop; poor pollination; light too low;
humidity too high. 

Blossom end rot/ or black spots on fruit:

If on
both
small and large fruits= calcium deficiency [mix new batch of nutrient].
If on only the large fruits: too dry [increase irrigation].

There is no cure for blossom end rot, only prevention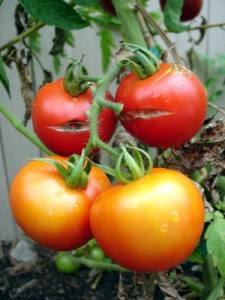 Tomatoes crack: Not enough or too much water; temp too
high

V.  SEEDLINGS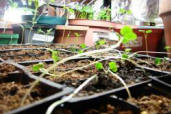 Spindly Growth: Seedlings grow very tall and spindly: Not enough light. You would
think it would be the opposite, but it's not. When the light is too dim or too
far from the seedlings, they strain towards the light, making them almost
unusable for transplanting. Give your seedlings strong and close lighting if you
want
stocky, sturdy baby plants.
GENERAL GROWTH PROBLEMS
Our hydroponics resource for troubleshooting
Bolting: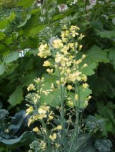 Bolted broccoli

Bolting of lettuce, broccoli, radishes: (they bolt to flowers and seeds). Bolting of
winter crops is caused by too warm of temperatures (they figure it's spring,
and time to make flowers!) Make sure these plants get plenty of light in their
early growth stages, and then keep them cool closer to harvest.
 
Stunted or slow growth: Too cold; underfeeding; overwatering
 
Spindly, skinny plants: Insufficient light
 
Rotting stems/leaves: Excessive humidity or overwatering; disease/fungus

 
                       LIMP LETTUCE
Home grown lettuce is often too limp to go right from harvest to
salad bowl. How to crisp it up? Wash in cold water, shake gently and refrigerate
in a plastic bag for an hour before dinner.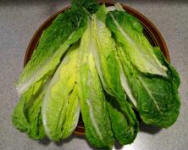 STILL HAVING PROBLEMS?
ASK FOR HELP AT 
THE HYDRO
FORUMS! 
---
RETURN FROM HYDROPONICS RESOURCE TO HOME PAGE
New!

Comments

Have your say about what you just read! Leave me a comment in the box below.