This post may contain affiliate links. That means if you click and buy, I may receive a small commission. Please read my full disclosure policy for details.
HYDROPONICS EBB AND FLOW
Aeration of the Reservoir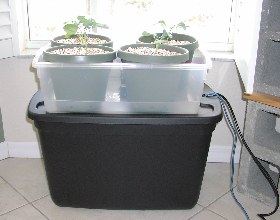 Hydroponics Ebb and Flow System
   Part 6: Reservoir Aeration

STOP! If you have just arrived at this website looking for hydroponics ebb and flow, you might want to go back to page one of this mini-farm plan.
NOW for the final touches!

14.
If you find that a small amount of water remains in the bottom of the
tray (like 1/4") after the drain cycle ends, you will need to raise the
pots up off the bottom so they won't sit in the standing water (and
rot). Place something about 1/2" thick underneath them to get them up
just a little but not too high.
Whatever you use, it must be inert and
not add chemicals to the nutrient solution (don't use bricks). Use
something made out of plastic. We used some thin plastic slats left over
from some old shutters.
15. Plug the water pump into the timer and set to fill 3 times a day, for only 15 minutes each fill cycle. (6am, noon and 6pm is good). Let the plants rest through the night; no feeding.

         TIP
Important: The air pump must be placed higher than the reservoir to prevent backflow of solution into the pump.
16. The bubbler
pump with airstone stays on 24/7. This oxygenates and aerates the
nutrient solution, keeping it from becoming stagnant.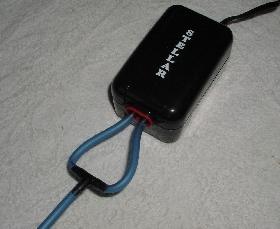 Earlier we listed the cheapest supplies we could find, to help keep the cost of this setup low.
However,
you might want to go to a pet shop and buy an upgrade air pump for the
stone. We bought this one for $20 and it is super quiet! Also look for a
circular airstone.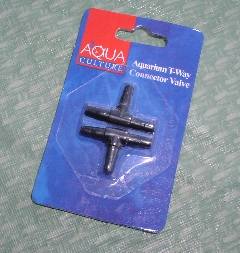 This
air pump has two outlet ports. If yours does too, then buy the "T"
adapter and tie in both ports to one airstone. No use wasting half those
precious bubbles!

GREAT OPERATING TIPS & TECHNIQUES

Return From Hydroponics Ebb and Flow to Mini Farms

RETURN TO THE HOME PAGE

New!

Comments

Have your say about what you just read! Leave me a comment in the box below.