This post may contain affiliate links. That means if you click and buy, I may receive a small commission. Please read my full disclosure policy for details.
HYDROPONIC PLANTS
What To Grow?

Have you thought about what hydroponic plants you would like to grow in your new garden?
This decision will point you to the type of unit that would be best for you.
At the bottom of this page we introduce four simple hydroponics systems. But
first, below are some guidelines to get you thinking about your future garden:
---
Start with vegetables you and your family
love. It might be fun to grow 40 radishes, but if y'all don't like them, why
waste the space? (Note: give radishes a try before you rule them out. Fresh
from the garden to your salad tastes delightfully different).
If you start out with just one small unit,
make the space count! If your family enjoys salads, then stick mostly to
salad vegetables at first--- lettuce, tomatoes, radishes, celery, and tuck a
cuke plant in the corner.
Give priority to vegetables that taste the
best fresh-picked and the worst from the supermarket.  You'll enjoy
much better flavor in your home-grown lettuces, tomatoes (especially),
celery, spring onions and herbs.
Don't waste space on potatoes or turnips,
as they are pretty standard in taste; you won't see a big difference in
home-grown. Root veggies are also harder to grow in a hydroponic pot, as
they need a lot of depth. (Later on, do try your hand at short variety
gourmet carrots for a real taste treat).
Fresh herbs are awesome! We have a special
section for you 

Herb
Freaks.
   What NOT to grow?

TIP
Once you have a little experience under your belt, and have the room for it, by all means try your hand at vining crops. Read all about training and pruning vines here.
The most ideal hydroponic plants do NOT include: corn, zucchini, summer squash, melons.
Sure they can be grown in a hydroponic
garden, but they are space hogs, and just not practical. They will take over
your whole unit.
Your resources are
better spent on crops more suited to the compact systems. Think small for now--- bush or
patio strains of beans, tomatoes and cucumbers.
If you later get into a greenhouse, you'll have
the room to train all those beautiful vining crops all the way to the
ceiling (no lights to stay under). You could experiment with any crops
under the sun, even corn if you'd like.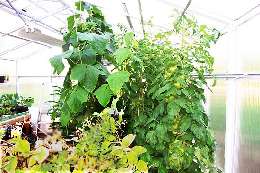 Check out our free e-zine offer below! After that, more great information on choosing hydroponic plants and systems.

 Like our
website? (We do too...) 

Our mission is to bring
you the most important, interesting, fresh and creative information on the modern gardening method known as... hydroponics!
We invite you to
join our growing village of hydroponic gardening enthusiasts by subscribing to our free monthly offering, The Urban Farmer.
Stay "plugged in"
to your fascinating new hobby with our most excellent newsletter/ezine, and receive:
Troubleshooting tips &
FAQs (Frequently Asked Questions)
Honest, unbiased reviews
of new techniques and systems
Spotlight on pests, plants
and products
Visitor submitted project
photos; successes and failures!
  All this, delivered
right to your mailbox!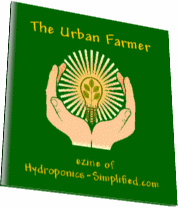 The Urban Farmer...

Keeping you on the cutting edge of  hydroponics.

             
          
             Sign Up
below! This is a No Spam Zone

Here's the real beauty of Hydro...
Here's one major advantage of the hydroponic method...
It keeps your crop plan realistic, manageable, and highly productive.
Have you ever had a traditional, soil-based vegetable garden? This is probably
how it went:
The first warm days of spring hit, and you get garden fever.
Off you go to the local nursery or home improvement center on a sunny Saturday
afternoon. Yikes! Everybody else has spring fever, too.
You fight over the choicest vegetable seedlings (baby plants), and snag a flat
each of tomatoes, peppers, eggplants, cucumbers, and squash.
Then you pass the
seed rack and all those
beautiful seed packets get you pumped up. In your cart goes several of
them, too. Don't forget the heavy bags of manure, peat moss, sand and
fertilizer!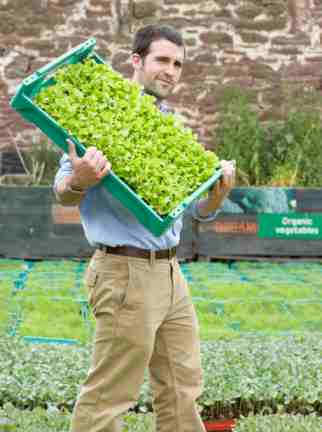 You get it all home. Out comes the tiller (if you're lucky). Otherwise, the
rake, shovel and hoe. After a day or two of back-breaking work, everything is
planted.
A little droopy, mind you, but the plot looks beautiful. Ah, the aroma
of fresh tilled earth!
---

Now, here's the problem. Did you really need that many plants? Are you really
going to use 10 tomatoes, 12 cukes, and 10 peppers a day? Not!
So what happens?
You leave the excess fruit on the plants, not wanting to be
wasteful. What does that do? Stops production of more produce.
You find worms in
the corn and potatoes, and the tomatoes start splitting on the vine.

You get
tired of all that horrible weeding, and throw in the towel.

Soon, your beautiful soil-based vegetable garden
has turned into a huge weed and bug infested plot, littered with rotted tomatoes and
cucumber carcasses.

Am I right?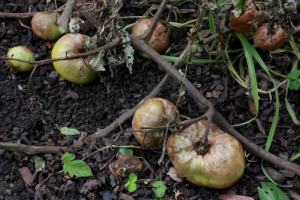 Hydroponics is the Answer!

Now, with hydroponics... since productive space is at a premium, you're
forced to think carefully about how much to plant of what.
How about just one tomato plant, one cuke, one or two peppers, lots of lettuces,
spinach and onions?
No weeds, no bugs, no excess produce. You will find that with a hydroponic
garden, you will plant a wider variety, fewer plants of each crop, and you will
utilize it all. Hydroponic plants are much more practical and less wasteful.
What a difference hydroponics will make in your gardening experience! You'll just love
it.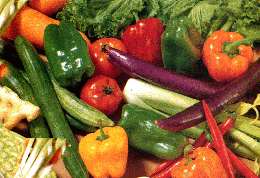 Later, we will go into more detail on the individual hydroponic plants
varieties, and which ones work best with which units. Check out our
Plants &
Produce  section for that!
Wondering if you can plant tomatoes in January? When to grow hydroponic vegetables answers that question nicely.
And there's some very useful information on climate requirements here.


But which Hydroponics Unit?
Okay, so you now have an idea of the types of hydroponic plants you want and when
to plant them. But which hydroponics method is best suited to your needs?
We provide an introduction to the 4 best and simplest systems to get you started: 

But Which
Unit?
---

RETURN FROM HYDROPONIC PLANTS TO HOME PAGE
New!

Comments

Have your say about what you just read! Leave me a comment in the box below.