This post may contain affiliate links. That means if you click and buy, I may receive a small commission. Please read my full disclosure policy for details.
Greenhouse Kits
Garden In A Box!

Love to have a greenhouse, but just don't have the skills or time to
plan and build one from scratch? Then a kit house is just the thing
for you!
A kit greenhouse provides field-tested design, ease of assembly, and (almost) instant gratification.
There are literally dozens of manufacturers who offer greenhouse kits for home use. Most are well designed, quality products; some not so great.
The most common complaints with poorly designed kits include leakage, total failure in bad weather, and deterioration by the UV rays of the sun.
All greenhouse kits have one thing in common: a frame. But the similarities end there, with many types, sizes and design features available.
Which one is for you? It might be hard to figure which kit is best suited for your needs, as well as the best bang for your buck.
Things To Look For In A Kit


In doing your research on greenhouse kits, be on the lookout for:
A strong framework
Rustproof & UV resistant
A ventilation system
Best glazing for plants
Insulation factor
Complete instructions
Product warranty
Other Greenhouse Kit Considerations

Rigid or flexible plastic coverings are better insulated, more cost-effective, and easier to work with than traditional glass panes. They also don't break in a hailstorm!
Freestanding greenhouses are easier to build than ones attached to your house. To add on a greenhouse to your existing home, you'll more than likely need to hire professionals to plan and build it.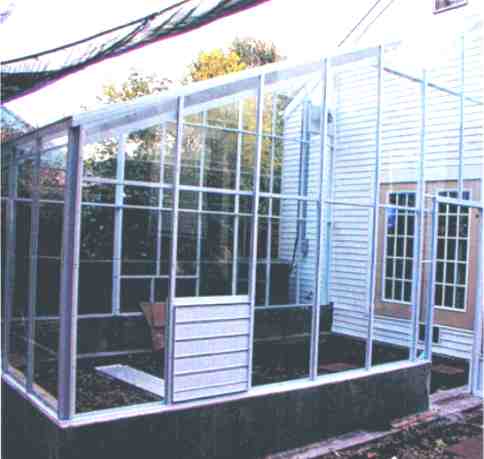 Freestanding models can often be expanded by removing one end-wall and adding on modules.
Kit greenhouses provide an elegant, finished look in a short amount of time. Now it does take time, effort and a little head scratching to assemble a kit; however, it's much easier to erect than a stick-built DIY greenhouse.
Don't Forget Accessories!

In planning the cost of either a kit or hand built greenhouse, don't forget to allow for all of the accessories and improvements you'll need:
Foundation- some kits do not require a formal foundation; they can be erected anywhere without extensive preparation. Others may call for a concrete or masonry foundation, which will usually involve building permits and professional help.
Utilities- you will need to plan if and how you're going to run electricity and running water to your greenhouse. You may need licensed professionals to set this up properly, too.
Accessories- And  don't forget the other goodies you might want, like hydroponic units, plant benches, a heater, fans, or a permanent irrigation or misting system. Browse some quality Greenhouse Accessories here.
We Went Surfin' For You

I'll be honest with you up front. We have spent literally years researching the different types of greenhouses and greenhouse materials available today. Of course, you're welcome to surf the net for yourself and compare products and prices.
But please bookmark this website, as you'll probably want to come back. 🙂
In keeping with our "KISS philosophy" (Keep It Simple Simon), we aim to make greenhouse kit selection simple for you too. And here's what we have come up with:
We're absolutely sold on a material for greenhouse panels called Solexx (Here's why). 
Solexx produces a compact but highly productive and attractive greenhouse which is easy to assemble.
The framework is fiberglass reinforced and super-strong.
The insulated glazing panels provide bright, even lighting which accelerates plant growth. It is also UV certified to withstand damage from the sun.
They also manufacture fine larger houses for the serious gardener or small commercial grower. You won't find a better deal on Conservatory Greenhouses.
Please check out our bundled Solexx Deluxe package deals… for the absolute best buy on the 'net.
We were so impressed with Solexx, we decided to become an Authorized Dealer of Solexx™ Products. We also wanted to keep things simple for you by not selling a bunch of other brands of greenhouse kits; just our favorite. 🙂
Learn more about Solexx greenhouses, read some honest independent reviews, watch a few more short videos, and check out our great bundled package deals: Solexx Greenhouses.
Thinking BIG? We also have the best prices on the 'Net for FarmTek Commercial greenhouses.
    Update! Save thousands of dollars off the cost of a greenhouse kit.
Our long-promised and eagerly-awaited DIY Greenhouse e-book is ready!
Simon's Super Simple
On-The-Grid, Off-The-Grid 
Hydroponic/Aquaponic 
Survival Greenhouse
| | | |
| --- | --- | --- |
| | | Simply awesome! |
RETURN TO HYDROPONIC GREENHOUSE
RETURN FROM GREENHOUSE KITS TO THE HOME PAGE
New!

Comments

Have your say about what you just read! Leave me a comment in the box below.