This post may contain affiliate links. That means if you click and buy, I may receive a small commission. Please read my full disclosure policy for details.
EBB AND FLOW TRAY
For Your Mini Farm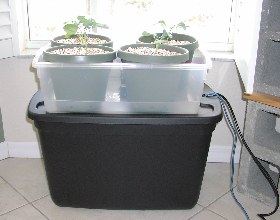 MINI EBB AND FLOW SYSTEM
   Part 3: Plumb Your Ebb and Flow Tray


STOP! If you have just arrived at this website looking for an ebb and flow tray, you might want to go back to page 1 of this mini-farm plan.

NOW, let's get to work!

5. Place 1/2"
irrigation tubing over the water pump outlet fitting. Depending on the
type of tubing or hose you have, you may have to secure the tubing onto
the pump outlet with a zip tie, or may have to taper the inside of the
tube with a razor knife if it is too small. You want a nice snug fit.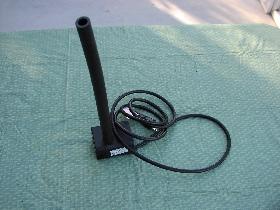 6. Place the clear tray
with drain fittings in place over the black lid, lining up the holes.
They should line up nicely and the fittings will drop down through the holes in the black lid.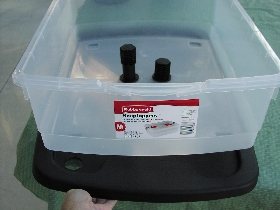 7. Trim the 1/2" black
tubing to a length that allows the pump to sit on the bottom of the
black tote bin (reservoir) when the lid is on. This may take some dry
runs and measuring to get it right. Then push the tubing over the port
of the SHORTER drain tube (the 1/2" or inflow tube) from the underside
of the black lid. Use a zip tie if necessary to get a snug fit. You
don't want this tubing slipping off either end during assembly.
Drop
the bubbler stone into the bottom of the black bin, and run the attached airline
tubing and the pump plug through the side access port you drilled into
the side of the lid (see below, left). Then place the lid/tray assembly
on top of the tote, and snap into place. Voila! So close to finishing up you new ebb and flow mini-farm!
AN EBB AND FLOW UNIT
Provides probably the most flexible and versatile hydroponics system of all. Top drip and other bucket systems are usually set up with multiple buckets of one size, and the grow unit will only fit a set number of buckets. No flexibility.
With a full-sized ebb and flow drain table, you can fit anything in there; from 2 inch potted seedlings to a 5 gallon fig tree! Mix and match; we have combined large Hydroton-filled buckets, several small pots of herbs, and slab rockwool all in the same ebb and flow tray.
So we heartily endorse an ebb and flow system for your first water garden experience.
Hydroponics Simplified 🙂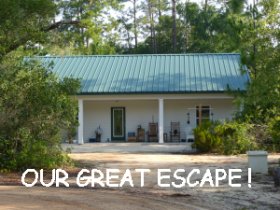 Return From Ebb and Flow Tray to Mini Farms

RETURN TO THE HOME PAGE
New!

Comments

Have your say about what you just read! Leave me a comment in the box below.