This post may contain affiliate links. That means if you click and buy, I may receive a small commission. Please read my full disclosure policy for details.
EBB AND FLOW SYSTEM
The Reservoir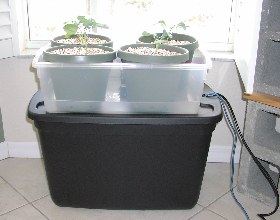 SMALL EBB AND FLOW SYSTEM
   Part 4: The Reservoir


STOP! If you have just arrived at this website looking for an ebb and flow system, you might want to go back to page one of this mini-farm plan.
NOW, let's finish this project!

8. Make a "dipstick"
out of 1x1 stick or a wood dowel. Take the time as you add each 2
gallons of water to the reservoir bin to dip the stick in and mark the
dowel with permanent marker at each level. This will help you gauge the
nutrient level later without removing the top and plants.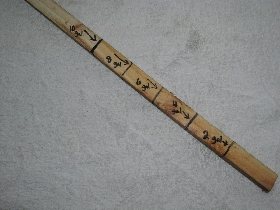 9. Fill the black bin (reservoir) with 10 gallons
of water. Add a nutrient concentrate of choice. If you are using GH
Flora Series (recommended), add 10 tsp. each of the Flora Grow, Flora
Micro & Flora Bloom, (one at a time, in that order). [Order it in
quart bottles, link provided later]. Adjust the pH of the solution with a test kit
(more on this later, too). Plug in the bubbler and pump and test the
system for operation and leaks. Note: the setup must be on a level surface.
PROS AND CONS OF EBB AND FLOW:

Advantages:
Simple, flexible and reliable
Low cost; very little plumbing
Efficient use of water and nutrients; a "closed" system which reuses nutrient solution
Uses a small, inexpensive, quiet pump
Versatile; different sized pots can be placed together in one set-up
Drawbacks (not many!):
May be hard to keep the nutrient solution cool
Disease can spread quickly, as the plants all share the same nutrient source
Poor or incomplete drainage of the drain tray could cause root rot or fungal growth

PLANTING YOUR EBB AND FLOW GARDEN

Return From Ebb and Flow System to Mini Farms

RETURN TO THE HOME PAGE
New!

Comments

Have your say about what you just read! Leave me a comment in the box below.