This post may contain affiliate links. That means if you click and buy, I may receive a small commission. Please read my full disclosure policy for details.
DUTCH BUCKET HOMEMADE SYSTEM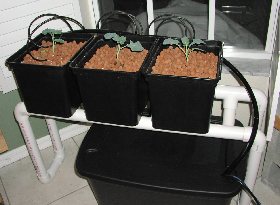 DUTCH BUCKET HOMEMADE SYSTEM
   Part 3: Glue up The Stand


STOP!
If you have just arrived at this website looking for a Dutch bucket homemade system, you
might want to go back to
page one of this mini-farm plan.
NOW, let's start gluing!
How to use PVC glue: apply to
both pieces, then push them together, all the way in. Hold jammed all the way
together for about 5 seconds to set the glue. It is now permanently bonded. 
Pencil a "line-up" mark on each piece so you'll know instantly where to push together. If you goof, start over. This is glue!
5. Next glue the elbow with the
"block" glued in it to the 18" cut piece, glue the leg into the end without
the block. Glue 3 other elbows to the other leg pieces (17-½" , 16-½" & 16"
cut pieces). This is how it should look: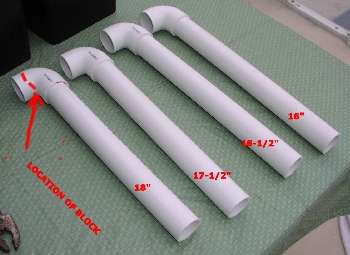 6. Now glue the two longer legs to the back (drain) rail (the assembly
with the T pc glued in). The 18" pc (with the block glued in the elbow) goes on
the plain end of the rail. The 17 1/2" leg goes on the T-pc end of the rail.
First you will do a dry run. The legs need to be flat (& parallel), but the
t-piece will angle in, to drain into the reservoir. This is what you are
attempting to do: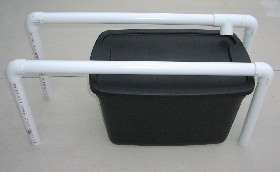 7. First assemble as a dry run,
making sure the legs lie flat, with the t pc angled in slightly. Use a marker to
show where the pieces line up before gluing them home. Push flat on the floor as
you glue it together so it is perfectly FLAT.

8.
Next glue in the two shorter legs to the front
rail, using the 35-¼" , 16-½", & 16" pieces.
Do a dry run first, lay the assembly
flat on the floor, and mark where the pipe goes into the elbows like below. Then
glue them on. Push flat on the floor as you glue together so it is FLAT.

This is how the frame will sit over
the reservoir: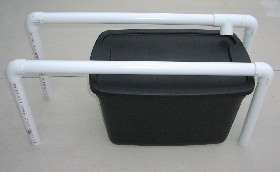 9.
Next add the two 5" pieces to the bottoms of
the legs. Glue one elbow on each end of each of the 5" cut pieces, making sure
to seat them all the way in for each joint. Then glue to the bottom end of the
two assembled frames. The two taller legs (18" and 16-½") go to one "U"
and the two shorter legs (17 ½ and 16") go
to the other "U". This is what it looks like all glued up: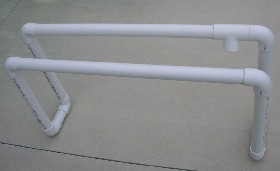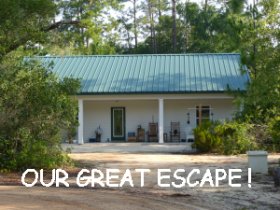 Return From Dutch Bucket Homemade System to Mini Farms

RETURN TO THE HOME PAGE
New!

Comments

Have your say about what you just read! Leave me a comment in the box below.