This post may contain affiliate links. That means if you click and buy, I may receive a small commission. Please read my full disclosure policy for details.
CONTROLLING APHIDS

These common spoilers can be found on just about any crops in your garden. Controlling aphids is not really difficult; read on…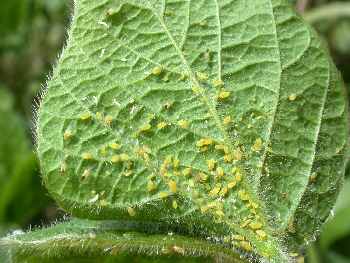 CONTROLLING APHIDS
PLANT DAMAGE
Plants
may look wilted and sickly, and fail to thrive. Leaves may be
mottled or yellowing, turning brown and curling under. Aphids suck the plant sap in the leaves and can kill the
entire plant. Aphid saliva is also toxic to plants, and aphids can transmit diseases, like viruses, to their hosts. Controlling aphids also helps prevent  spread of these dreaded diseases.
INSECT APPEARANCE
Look
closely, and you will find dense colonies of tiny, soft-bodied bugs,
usually yellowish. They often collect on the undersides of leaves or the
growing tips of the plants. You will also find a sticky honeydew trail
they exude, which attracts ants. If you've got ants, look for aphids.
TREATING LIGHT INFESTATION
Pick the squishy little (1/32-1/8 inch) aphids off by hand and crush them.
BIOLOGICAL WARFARE
Lady Bugs, green lacewings and gall midges are all good insects which prey on aphids.
Please use our Amazon affiliate links to order:
CHEMICAL WARFARE
Spray repeatedly with either of these agents.
Please use our Amazon affiliate links to order:

---
Return From Controlling Aphids to Pests & Plagues

RETURN TO HOME PAGE
New!

Comments

Have your say about what you just read! Leave me a comment in the box below.