This post may contain affiliate links. That means if you click and buy, I may receive a small commission. Please read my full disclosure policy for details.
Bucket hydroponics are super easy… and they give great results!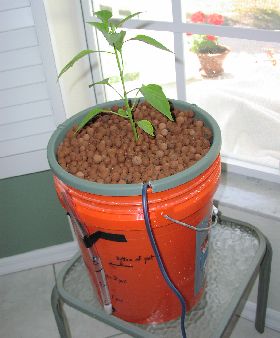 Want to grow just one or two large plants? Then bucket hydroponics, or the "Bucket Bubbler" is for you! A bucket hydroponic setup is very popular for growing a few large specimens in small spaces. They are simple and cheap to build, low maintenance and the plants love it.
The Bucket Bubbler is a combination of aeroponics/deep water culture systems, and we have gotten some very impressive results from it. I always keep one growing in my office, as I love the soothing "water sounds".
How Do Bucket Hydroponics Work?

The plant sits in a net pot (or grow pot) with lots of drainage holes in it, which is suspended over a bucket of aerated nutrient solution. The roots grow through the drainage holes, reaching into the solution below. It eventually forms a large "root ball" in the bottom of the bucket.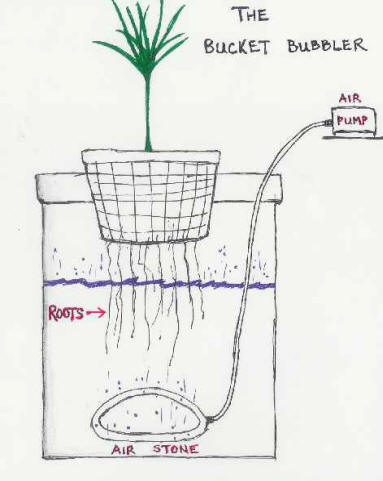 Interested in a larger, 6-plant, 18-gallon Hydro bubbler system? Get the plans in our Grow Box E-book, or find instructions for an open-air bubbler system here: The Hydro Bubbler.
TIP Note, there is a link at the end of the series to a nice printable booklet of the process!
Not ready for a large hydroponic garden yet? Get started below with our single and simple bucket bubbler FREE PLANS.
How To Build A Bucket Bubbler System
These work great for one or two large "specimen plants". They can support a slow-growing plant like a fig for the long-term.
There is plenty of room in the 5-gallon bucket for a large root mass, which means a large plant will thrive in it.
Bucket bubblers are super easy to construct and get growing, and they are too cool! I love them and keep one going at all times in my office.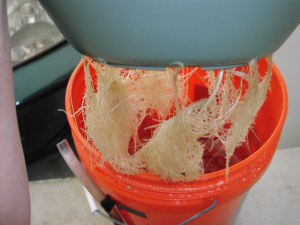 Most of the needed materials are available from Home Depot or the hardware store. A couple of items must come from a hydroponics supplier (but we tell you a good source).
Supply list for making your own bucket bubbler:
5 gallon "Homer" bucket [Home Depot]
Flowerpot that flares out at the top and fits on top of the open bucket. It must have some depth to it. We used a hanging pot, and just took off the metal hanging hoop. It is 12" across the top, 6" across the bottom, and 7" deep. It fits perfectly in the homer bucket, yet has plenty of room. [Home Depot]
Aquarium air pump, 6 feet of airline tubing, "T" connector & 5" airstone [Walmart]
Bag of LECA (Hydroton or clay balls) More on this and ordering info later in the Tips 'N Techniques section.
1/2" I.D. (inner diameter) grommet; see photo part 2 [Home Depot electrical section or hardware store]
1/2" O.D. (outer diameter) barbed elbow piece; see photo part 2 [Hardware store]
Clear 1/2" I.D. flexible tubing; 14" long [Home Depot or hardware store]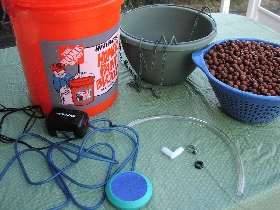 Tools needed:
Power drill
3/4" & 3/8" regular or spade drill bits