This post may contain affiliate links. That means if you click and buy, I may receive a small commission. Please read my full disclosure policy for details.
BATO BUCKETS SYSTEM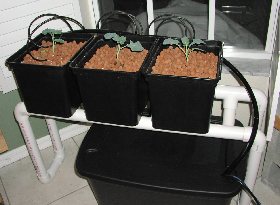 Top Drip Bato Buckets System
   Part 4: Setting up the Buckets


STOP!
If you have just arrived at this website looking for a Bato buckets system, you
might want to go back to
page one of this mini-farm plan.
NOW, Let's get back to work!

10. Now it's time to drill the drain holes in the back drainage rail (the
one with the t-piece). Set the three Batos onto the frame so they line up
evenly between the elbow and the T-piece and mark on the PVC pipe where the
drain holes come out: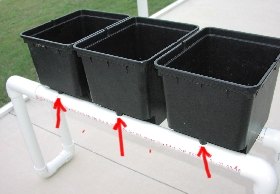 11. Using the 7/8" spade bit or a 1" hole saw bit, drill the three holes
in the very top of the PVC pipe. This is where the Bato drain elbows will
fit into the drain pipe.
12.
You're really getting there now. This is what
it looks like with buckets in place: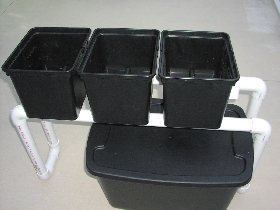 13. The remaining 6" piece of PVC pipe is
the drain pipe extension. Glue it into the down port of the T-piece. Then using
the 2-¼" hole saw, cut a hole in the reservoir lid right where the drain port
extension hits the lid, so it will enter it. Cut a smaller 1" hole in the front
corner as shown. This is where the hose is going to come up from the pump to the
feeder lines.
About Bato (Dutch) Buckets:
Dutch buckets are a fantastic complement to the highly efficient drip irrigation systems. The bucket has a unique patented internal drainage system. The two elbows included with the unit suck overflow water from the lowest level of the bucket and discharge it into a central drainpipe. By doing this, the older, more stagnant nutrients are removed from the bottom of the container, allowing the fresher mix to flow from the top.
Central drainpipe: 1-1/2 inch PVC pipe
Bucket measurements: 12" long, 10" wide, 9" tall
Plastics: Food grade polypropylene
Best use: Large, long-term crops like tomatoes, peppers and cucumbers
Growing media: clay balls, perlite, coco coir


Return From Bato Buckets to Mini Farms

RETURN TO THE HOME PAGE
New!

Comments

Have your say about what you just read! Leave me a comment in the box below.