WICK HYDROPONICS
Easy Care Wick System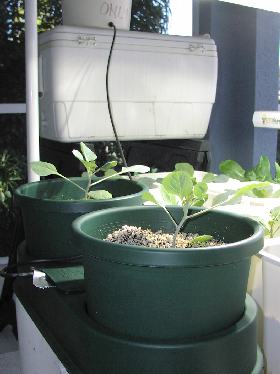 Wick Hydroponics
   Part 2: Getting Set Up


STOP! If you have just arrived at this website looking for wick hydroponics, you might want to go back to page one of this mini-farm plan.
NOW, let's get started!


1. Using the power drill, drill a 1/4" hole near the bottom of the bucket. Carefully seat the provided grommet into the hole, making sure it flares out evenly inside and outside the bucket.
Push one end of the 1/4" tubing supplied into the grommet so it extends only about 1/4" inside the bucket.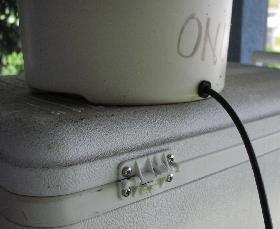 2. The bucket is going to be the nutrient reservoir, so it must sit up higher than where the AutoPot module will reside. The fluid is gravity fed into the AutoPot trays. No pumps, no timers, no aerators! Now insert the other end of the tubing to the inlet port on the AutoPot. Just follow the instructions provided.
Guess what? You just built an AutoPot® hydroponic system!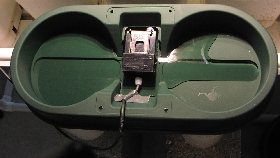 3. Now test the pot for proper operation of the Smart Valve. Pour some water into the holding bucket. Water should slowly fill the holding tray below until it reaches a level of about 1". Then it should cut off.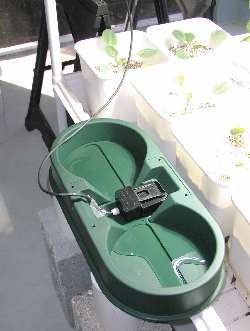 4. Filling the pots- Each kit comes with a round "root mat" which sits in the bottom of each plant pot. It keeps the medium in and helps wick up the nutrient solution to the plant roots. The growing medium is actually the "wick" for this hydroponic system.
The recommended growing medium is:
50/50 Coco Coir and perlite. You cannot use LECA (clay balls) in the wick action AutoPots. More on growing medium and ordering info in the Tips 'N Techniques section below.
5. Plant your young seedlings in the pots and place the pots in the holding tray. You are ready to rock 'n roll now, time to add food.


6. Nutrient solution is a pretty care-free chore in this system. Because the fluid is not re-used, once mixed, you don't have to worry about strength or pH. Mix it and forget it! A 2 gallon bucketful will last several days, depending on the size of the plants and the climate.
So mix up a 2 gallon batch of your favorite nutrient formula, then adjust the pH (read our recommendations below). That's it... just sit back and watch 'em grow!


   Wick Hydroponics
   Expanding the System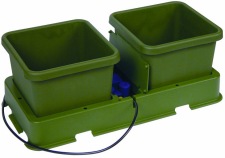 This modular growing system is very easy to expand. You just buy more modules and "t" into the irrigation tubing to provide nutrient solution to each grow tray. Of course, after about 2 modules, it will be necessary to provide a larger reservoir for the solution.

But as we said earlier, you can create an entire greenhouse filled with nothing but Autopots... the hydroponics "no brainer". Each Autopot purchased comes with diagrams of various arrangements to help you plan a larger Autopot garden.




Return From Wick Hydroponics to Mini Farms
RETURN TO THE HOME PAGE