RAFT LETTUCE
Build This Great Water Farm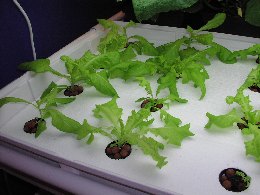 RAFT LETTUCE (DEEP WATER CULTURE)


Deep water culture (the raft lettuce system) is probably the simplest and most economical hydroponics system you could build. Although very simple to set up and operate, it is actually superior for growing lightweight, leafy vegetables like lettuce, herbs and small peppers. They grow like wildfire in this system.


A lettuce raft makes an impressive, "futuristic" display and is a favorite with school teachers and for science fair projects (use an aquarium for the reservoir so you can see the roots).
We always have the lettuce raft bubbling away in the grow room no matter which other projects we are currently growing.

Nothing like steak and fresh lettuce salad!


   Here's how it works


Plants are grown in tiny net pots that sit in a styrofoam raft. The raft floats right on a shallow pan of nutrient solution, which acts as the reservoir. The roots grow right through the net pots and into the solution pan. A small air pump and bubbler keeps the nutrient solution well aerated and delivers oxygen to the roots of the plants.
A fun, easy-care and prolific system!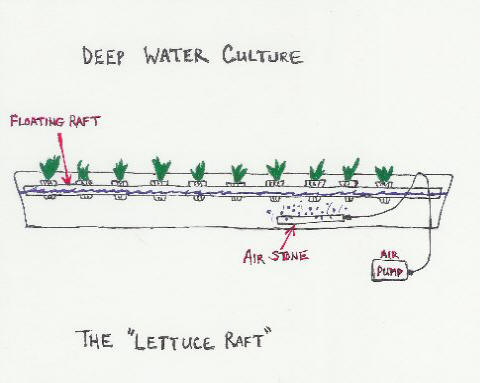 Think Big!  Learn to build a large Lettuce Raft System [2X4 raft for 20 plants!] Read all about it here: Simon's Simple Hydroponic Plans.
      TIP
There is a link at the end of the series to a nice printable booklet of the process!

Not ready for a large garden yet?, Get started below with our small raft lettuce mini-farm [6 plants] free plans!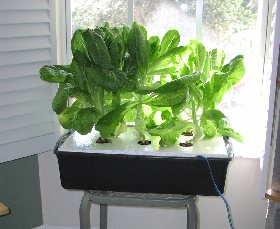 BUILD A SMALL LETTUCE RAFT SYSTEM


This is a lettuce growing machine! If you start some new seeds every 30 days, and replace each head of lettuce as you harvest with a new baby seedling, you can have a perpetual supply of crisp, healthy salad greens.

The setup we provide here can grow six heads of lettuce at a time, and the whole unit costs less than $50 (not including a lamp and food).
Most of the materials are available from Home Depot or Walmart. A few items must come from a hydroponics supplier (but we give you a good cheap source).

SUPPLY LIST:
Shallow reservoir pan (Sterilite 34 qt Latch Box tote works well) this bin is about 23½ X 14½ X 6" deep on the inside [Walmart]

Can of cheap flat back spray paint [Walmart]

Aquarium air pump, 6 feet of airline tubing, "T" connector & 5" airstone [Walmart]

Rigid styrofoam sheet, 1-1/2 to 2" thick; cut a piece to fit inside the reservoir pan. You can buy a 4X8 foot sheet at Home Depot for about $15. It seems a shame to buy a huge sheet of it for one little piece, but you can always save it for use later when you are ready to build your big 2X4 foot lettuce raft! An alternative is to cut a slab from an old styrofoam ice chest of the right thickness.
6- 2" net cups: Cheap Hydro Supplies
Small bag of LECA (Hydroton or clay balls), [hydroponics supply or ebay]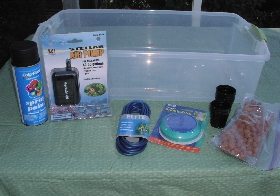 Styrofoam building insulation, 2" thick           air pump kit

TOOLS NEEDED: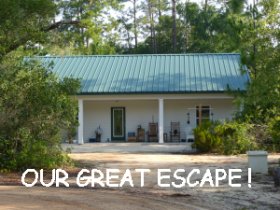 Return From Raft Lettuce to Mini Farms
RETURN TO THE HOME PAGE