RAFT CULTURE
Set Up Your System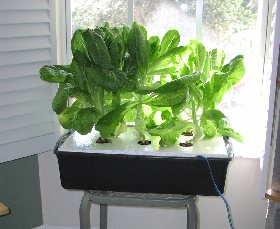 LEARNING THE RAFT CULTURE SYSTEM
   Part 3: Set up your Raft

STOP! If you have just arrived at this website looking for raft culture hydroponics, you might want to go back to page one of this mini-farm plan.
NOW, carry on building this baby!
6. Next, spray paint the outside only of the clear reservoir bin, to make it light proof. Spray several coats and use the entire can. Do not spray the inside of the bin.

This light-proofs the system and prevents algae from growing.

Just about ready to load this baby up!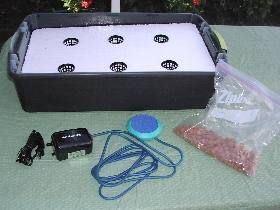 TIP

Important: Place the air pump higher than the reservoir to prevent nutrient from backing up into it.


7. Set up the tray on a sturdy level support, (it's final resting place). Fill with 6 gallons of water. Place the airstone in the bottom of the tray, connect to the air pump, and plug it in to test it.



8. Next, add your favorite nutrient solution to the vat. If you are using GH Flora Series (recommended), add 6 tsp. each of the Flora Grow, Flora Micro & Flora Bloom, (one at a time, in that order). Adjust the pH with a test kit (more on this and ordering info in the Tips 'N Techniques section below).


9. Next, float the styrofoam raft on top of the nutrient solution. You want it to ride at the very top, so add more solution if your bin requires more than the 6 gallons.


                LETTUCE LOVER?

Raft hydroponics is tailor-made for growing lettuce. The deep water culture provides a perfect growing environment for lettuces, herbs and small peppers. However, lettuce is by far the most popular crop grown on these units; hence, the name "lettuce raft".

Lettuce is widely grown commercially in hydroponic greenhouses, and supplies a growing market demand as a gourmet, high-quality food.

Most hydroponic lettuce is of the Bibb or Buttercruch varieties, which form a soft fluffy head, not like the dense compact iceberg lettuce. You might try also some specialty lettuces to add variety to your salad bowl. Romaine, Oakleaf, and Ruby are popular.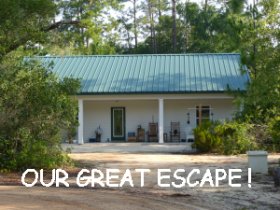 Return From Raft Culture to Mini Farms
RETURN TO THE HOME PAGE