My Lettuce Table (Part 2)
by Helmut
(Louisiana, USA)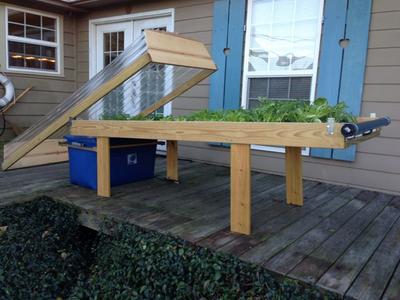 (Click on each photo to enlarge)

Take a 4 x 8 piece of metal roofing to make a slightly sloped table.
Put a manifold with emitters (we call them piddle tubes) on the top end.
Cut plastic tubing into bottomless 2 x 2" pots and seed them in a tray.
Set out the seeded grow tubes on the sloped table and feed them with nutrient solution.
Drop a fountain pump into the container and put it on a programmable timer.
Put a removable clear top on your table to keep wind from knocking over your plants.
Let the solution drain back into a plastic container at the bottom end.
Harvest your greens with the roots still on - they stay fresh longer.
Clean and sterilize the grow tubes in your dishwasher.

I can go away for days and my lettuce is taken care of.
Transplanting is like moving a chess piece - without disturbing the roots.