EBB AND FLOW HYDROPONIC SYSTEM
Simply Explained- Free Plans
Ebb and Flow Hydroponic System...



The ebb and flow (also called flood and drain) is the classic hydroponic system. It is easy to understand, build and maintain. It's versatile and can accommodate pots of any size, or even rockwool blocks. We love the ebb and flow and use it often.

---
Ebb and Flow Hydroponic System...

HERE'S HOW IT WORKS:
Individual potted plants are arranged on a drain table or "growing bed" which can hold a few inches of water. Periodically, nutrient solution is pumped in, flooding the holding bed. The plants are watered from the bottom through the drain holes in the pots.
After a few minutes of soaking, the pump cuts off, and the table drains, the nutrient returning to the reservoir below it. This flood-and-drain cycle repeats 2-4 times a day. Simple but very effective.
Ready At Last! Learn to build a large Ebb & Flow System [4X4 growing bed with 24 large pots!] Read all about it here: Simon's Simple Hydroponic Plans.


Not ready for a large garden yet?, get started below with our small ebb & flow mini-farm [2-4 pots] free plans!
(* Note, there is a link at the end to a nice printable booklet of the process!)





HOW TO BUILD A SMALL EBB & FLOW SYSTEM
This is a great, dependable little unit. You can grow four- 6" to 8" pots or several smaller plants. It costs about $90 in early 2009 (not including a lamp and food). Most of the materials are available from Home Depot or Walmart. A few items must come from a hydroponics supplier (but we give you a good cheap source).
SUPPLY LIST:
Rubbermaid Black Storage Tote Bin with lid- 18 gallon [Walmart]
(Or similar sturdy tote bin of 16-20 gallon volume)

Rubbermaid Snaptoppers Clear Tote- 30 qt. [Lowe's or Home Depot]
(Or similar flat bin that will fit on top of the tote bin)

Timer, mechanical garden; 15 minute increments [Walmart]

Aquarium air pump, 6 feet of airline tubing, "T" connector & 5 inch airstone [Walmart]

4 cheap flower pots, 8" [Home Depot or Walmart]

Small bag of perlite [Home Depot or garden center]

Black irrigation tubing, ½ " I.D. (inner diameter) about 18" long, [Home Depot]

Small submersible pond pump- 120 gph [here's one cheap: http://www.hydroponics-simplified.com/cheap-hydroponics-supplies.html#ebb]

Fill and drain fitting set with one extension [order below]

One brick of coco coir & small bag of LECA (Hydroton or clay balls) More on this and ordering info later in the Tips 'N Techniques section.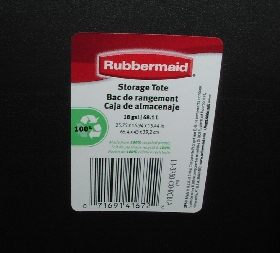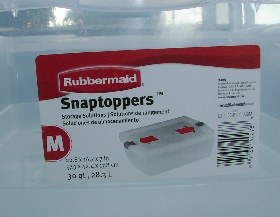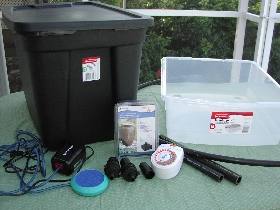 TOOLS NEEDED:
NOW PUT THIS BABY TOGETHER

Return From Ebb and Flow Hydroponic to 4 Simple Systems
RETURN TO THE HOME PAGE