BUILD YOUR OWN TOP FEED
Spaghetti feeder lines
Build your own top feed garden
---
STOP! If you have just arrived at this website, you might want to go back to page one of this mini-farm plan.
NOW, carry on building this baby!

HOW TO BUILD A SMALL TOP DRIP SYSTEM USING BATO BUCKETS
Part 6- Spaghetti Feeder Lines
Build your own top feed garden
16. Now to make the "spaghetti" feeder lines. The large 1/2" tubing that comes up from the pump in the reservoir: arrange it so that it runs at the back top edge of the 3 buckets, and tape in place temporarily.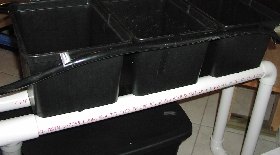 17. Cut the end of the tube off about 6 inches beyond the third bucket, roll it over 3 times and seal it off with a zip tie. This is the end of "the run", and you don't want it leaking.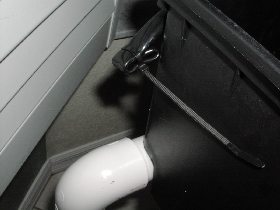 18. Mark off 2 spots on this tube at each bucket. This is where the spaghetti lines will run off the larger main tube to the plants. Each bucket gets two feeder lines.

19. Now get the small 1/4" spaghetti tubing and the barbed connectors ready. Cut six 16" pieces of the tubing for the feeder lines. Take your time and work each tubing piece onto one end of a 1/4" barbed connector. It will take some time to force it down flush. And I mean all the way. Seat it properly now and it won't leak later.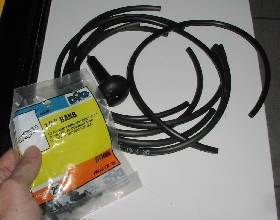 20. Now you want to attach the spaghetti lines to the larger feeder tube where you marked the six spots. You must punch a tiny hole at each of those six spots where you marked them off. We use a hole punch made just for the job. It only costs a couple of bucks in the irrigation section at Home Depot, but we didn't see the added expense to you for just six holes. It does a nice job, though.





21. Insert the other end of the barbed connectors into each one of the six tiny holes you punched in the large tube. You might have to untape the tubing from the backside of the pots to do this, as it takes a bit of work. Take your time and carefully work them all the way in until they "pop" and the barb is now inside the larger tube. Do this right and it will not leak. Then retape the larger line to the backs of the pots and route two spaghetti lines to the top surface of each Bato pot.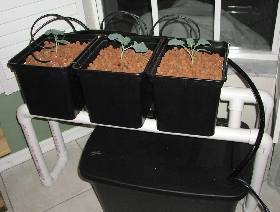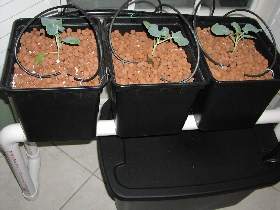 22. You can just lay the tubing on top of the pot surface, or secure it in some way. We use little metal plant clips we found in the Walmart garden center.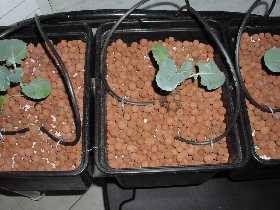 Note: They sell dripper valves that go on the ends of the spaghetti tubing, but these always get clogged. Save yourself the money and headache and just let them be. The nutrient solution trickles out the end of tubes at the base of the plant. No problem.
Build your own top feed garden

PLANT THOSE BABIES

Return From Build Your Own Top Feed to Mini Farms
RETURN TO HOME PAGE