Backyard Experiments
by Pierre van Wyk
(Uitenhage, South Africa)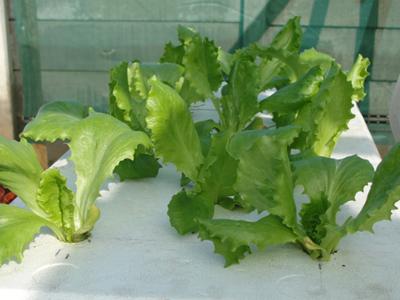 Using a recycled polistyrene containers 9used for transporting frozen fish). Works very well for lettuce.
Click on each photo to enlarge.
We have been experimenting with different systems using compost tea as nutrient solution, so far it seems very promising, and cheap. We want to develop backyard systems that can be duplicated in the townships. The cost so far? Apart from the aeration equipment, nothing. And it works. If we have proven results we will expand the system using more durable and bigger recycled containers. The polistyrene tend to leak after a while. We are fortunate that we have very mild winters and hot summers so we can do everything year round. We are in the middle of our winter now and as you can see it grows well outdoors even in winter. We do have shade netting nevertheless.