Hydroponics: LED Lighting... All Grown Up!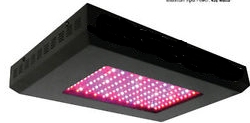 We currently recommend some LED light panels.
Moderately priced LED panels. These LEDs are usually specified as banded units, like 3-band, 5-band, 7-band, etc. What this means is they cover several spectrums in the growth cycle of plants, and can be quite effective for supporting your hydroponic crops from seedling to fruit.

These units usually have 3 watt or 5 watt diodes, cost between $300-$900 (depending on wattage) and last 5-7 years or even longer without failing. They can have red and blue diodes, most have cooling fans, and are often called BROAD SPECTRUM lights.

We do recommend some of these lights at this time, read the reviews before you buy.
Check out our picks for LEDs here.